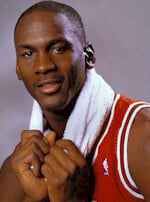 Full Name: Michael Jeffrey Jordan
Born: 2/17/63 in Brooklyn, N.Y.
High School: Laney (Wilmington, N.C.)
College: North Carolina
Drafted: Chicago Bulls (1984)
Transactions: Signed with Washington Wizards, 9/25/01
Height: 6-6
Weight: 216 lbs.

Michael Jordan Biography and History


Michael Jordan is known as the best NBA Player of all time, and a lot of people search for Jordan's Biography or History. We have contributed a special page for the History and Biography of Michael Jordan. You can find out information on Michael Jordan's childhood years and through his career.