In the 1986-1987 season, Michael Jordan had began a string of back-to-back NBA scoring titles, which held for a total of seven seasons, until his surprise "retirement" in 1993.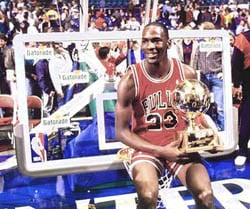 He was the second player ever to score more than 3,000 points a season, topped only by Wilt Chamberlain. Mike also scored a career high 37.1 points per game.
During the months of November and December, MJ scored 40 or more points per game for a total of nine games straight. On February 26th, Michael scored 58 points against the New Jersey Nets, and, on April 16th, in an unbelievable athletic performance, Michael scored 61 points against the Atlanta Hawks. In the same game, MJ set an NBA record by scoring 23 points in a row.

Michael became the first person in NBA history to ever record 200 steals and 100 blocked shots all in the same season.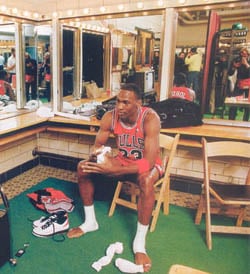 During the 1986-87 season, Michael played in the NBA All-Star Game, he won the Slam-Dunk Championship, and last but not least, was selected for the All-NBA First Team.
Even though Jordan had such an excellent season, his Chicago Bulls still could not top the .500 mark. They finished fifth in the Central Division with a record of 40-42, and had to face the Boston Celtics once again in the first round of the NBA playoffs. Making it the second time in a row, the Celtics ran over the bulls, sending them home in a three-game sweep.
MJ averaged 35.7 points in the series against the Celtics, but shot only .417. Michael ended the season with an average of 37.1 points, 4.6 assists, and 5.2 rebounds per game, and for the postseason he averaged 35.7 points, 7.0 rebounds, and 6.0 assists per game.