In the '97-'98 season, Michael Jordan was named MVP for the fifth time.
He was also selected for the All-NBA First team and the NBA All-Defensive First Team for the record ninth time in his career, and was named to the 1997-1998 NBA All-Interview First Team. MJ broke Kareem Abdul-Jabbar's NBA record by scoring in double digits for the 788th straight game by scoring 33 points.
Against the New York Knicks on April 18th, Mike had a game-high 44 points with 22-24 free throws, 3 rebounds and 3 assists, winning 11-109. MJ scored his 5,000th career assist along with a game high 37 points, 4 rebounds, and 4 steals against the Orlando Magic, winning 87-78 on April 11th.
Mike scored his 29,000th career point against the Minnesota Timberwolves with a game-high 41 points, 6 rebounds, and 4 assists, winning 107-93.
Mike was named NBA player of the week for 4/5, with a league-high 35.7 points, 4.3 rebounds, and 5.0 assists per game. He was named NBA Player of the Month for the month of March, with a league-high average of 28.9 points, 5.3 rebounds, 3.5 assists, and 2.07 steals per game. The Bulls finished the regular season with a winning record of 62-20, with averages of 28.7 points, 5.8 rebounds, and 3.5 assists per game.

In the 1998 All-Star Game, Mike was named All-Star Game MVP for the third time with a game-high 23 points, 8 assists, 6 rebounds and 3 steals.
Chicago began the playoffs by defeating the New Jersey Nets 3-0, with MJ scoring over 30 points each game. In the Conference Semis, the Bulls had to play the Charlotte Hornets, and defeated them 4-1. In the Conference Finals, the Bulls drew Indiana Pacers and beat them w-3, with Jordan scoring 30 or more points on four different occasions and scoring over 40 points one time. In the NBA Finals, Chicago faced off against the Utah Jazz and were victorious in the series, defeating Utah 4-2 with Mike scoring over 30 points four different times, and clinched the Championship with Michael hitting a last second jumper with only 6.6 seconds left on the clock.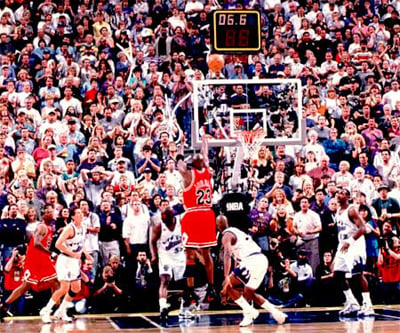 The Bulls were now six-time Champions and Michael Jordan was again the NBA Finals MVP. Mike was the highest paid athlete in a season with a 33.6 million dollar contract with the Chicago Bulls.