Michael Jordan and the Chicago Bulls were back in the 1992-1993 season with 2 NBA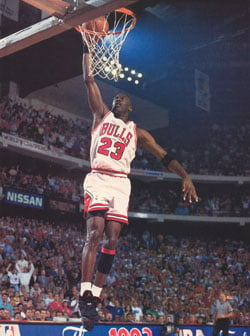 Championships under their belts and a hunger for more. For the fourth straight time, the team had a 50+ win season, going 57-25.
MJ scored an average of 32.6 points per game and tied Wilt Chamberlain for the most consecutive scoring titles. For the third time, Michael led the league in steals. For the seventh time, he was appointed to the All-NBA First Team, and for the sixth time he was appointed to the NBA All-Defensive First Team. Once again, Michael was a part of the All-Star Game, where he scored 30 points this time around. MJ averaged 22.1 points per game in his career as an all star, which was an NBA record.
Michael had quite a few single-game outstanding performances, such as scoring 54 points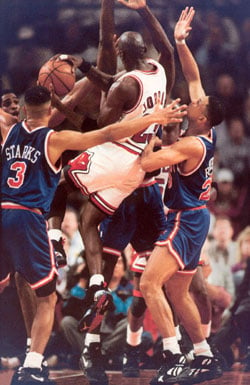 against the Los Angeles Lakers, 57 against the Washington Bullets, 64 against the Orlando Magic, and 52 against the Charlotte Hornets. He scored the 20,000th point of his career and ended the regular season with an average of 32.6 points, 6.7 rebounds, and 5.5 rebounds.

Mike and the team were back in the playoffs and flawlessly defeated the Atlanta Hawks in the series 3-0. In the Conference Semis, they met with the Cleveland Cavaliers and defeated them with out a loss, winning the series 4-0. In the Eastern Conference Finals, the Bulls had to face the New York Knicks yet again. Mike and the team lost the first two games which were both in New York, but kicked back into gear, winning the next four straight games. The Chicago Bulls took the series 4-2. Back to the NBA Finals, Mike and the team defeated the Phoenix Suns 4-2 to grab the NBA Championship Title. MJ was again voted the NBA Finals MVP, and set a NBA Finals record by averaging 41.0 points against the Suns alone. Mike's averages for the postseason were: 35.1 points, 6.7 rebounds, and 6.0 assists.
Michael announced his retirement from basketball after the season, saying that he had just lost the will to play the game anymore.