Michael Jeffrey Jordan, born February 17th, 1963, was the third son of James and Delores Jordan. Michael was born in Brooklyn, New York, but moved to Wilmington, North Carolina as a young child. Michael has four siblings, two older brothers, an older sister and a younger sister.
Michael attended Trask Middle School and received certificates of achievement in Football and Basketball in June 1977.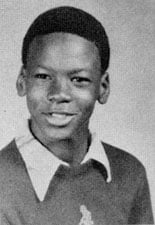 In the beginning, Michael was not very academically focused at all. This all changed when he began attending Emsley A. Laney High School. He became a B+ student and excelled as an athlete in three sports: Football, baseball, and basketball.
In the fall of 1978 MJ, a 5 foot 9 inch sophmore at Laney High School was cut from the Varsity team. The coach elected to use their 6 foot 8 inch sophmore Leroy Smith instead. Jordan would then grow 5 inches before the start of the next season. Over his next two varsity years, he began averaging 25 points per game and was the first player in high school history to average a triple-double. He eventually made the team and led them to the State Championship.

In 1980 while playing for the Laney High School varsity Baseball team, Jordan pitched 45 consecutive scoreless innings. We were then beginning to learn just how athletically gifted this man really was.
On April 11, 1981, At the McDonald's All-American High School Basketball Game in Wichita, Kansas, Jordan hits a pair of free throws with 11 seconds left to give the East a 96-95 victory. He finished  the game with 30 points. This record still stands today.
Here are some awards he won as a child :
1975 "Mr Baseball" (Dixie Youth Baseball Association)
1977 Outstanding Athlete (Trask Middle School)
1981 McDonald's All-American HS MVP