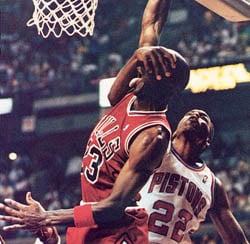 The 89-90 season was off to a fresh start with Phil Jackson as the new head coach. Things were looking up for the Chicago Bulls, as they ended the regular season with a record of 55-27. This was the Bulls' best performance since they were under the leadership of Dick Motta in the 1971-1972 season.
Michael Jordan was performing at the top of his game, as usual. He was very dominant on both offense and defense, racking up a total of 33.6 points and 2.77 steals per game. MJ set a personal record of 69 points in overtime against the Cleveland Cavaliers, winning the game 118-117. He also became dominant in three-point shooting, raising his percentage to .376, 100 percent more than his previous career-high. Mike hit 92 long range shots, improving drastically from the mere 68 which were made from his first five seasons combined. Altogether in the regular season, Jordan averaged 33.6 points, 6.9 rebounds, and 6.3 assists per game.
Michael again made the All-Star Team, and was selected for the All-NBA first team and the NBA All-Defensive First Team.
In the postseason, the Bulls met the Milwaukee Bucks and won the series 3-1. In the conference semifinals, the Bulls faced the Philadelphia 76ers and came out victorious, taking the series 4-1. But the good graces for the Chicago Bulls did not last long, as they fell to the Detroit Pistons after a seven game series, winning 4-3.

In Michael's 16 playoff games, he averaged a total of 36.7 points, 7.2 rebounds, and 6.8 assists.