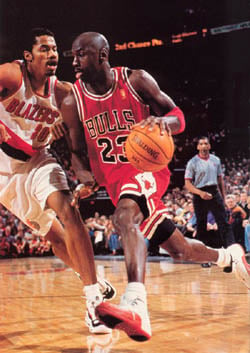 Michael Jordan had a great '96-'97 season, and lead the league for the ninth time in scoring with 29.6 points per game along with 5.9 rebounds, 4.3 assists, and 1.71 steals per game.
As usual, MJ was voted to the All-NBA First Team and the All-NBA Defensive first team. This year, Karl Malone was voted as the league MVP and beat out MJ by a very slim margin. Mike gained his revenge as the Bulls defeated Malone and his Utah Jazz, and Jordan took the title of NBA Finals MVP for the fifth time in 5 different trips to the Championships.
Mike was the Player of the Month for November, and he started all 82 games of the regular season while passing up Alex English, Dominique Wilkins, John Havlicek, and Oscar Robertson for the fifth-place spot on the all-time scoring list with 26,920 points.
Michael has now scored double-digits in 758 straight games. He scored a season-high 51 points against New York to win 88-87 and 50 points against Miami to defeat them 106-100. He scored at least 40 points 8 times during the season and 30 or more 44 times.

MJ matched his career high 18 rebounds against seattle and defeated them 89-87, and became the first player in NBA All-Star history to record a triple-double with 14 points, a game-high 11 rebounds, and a game-high 11 assists in Cleveland.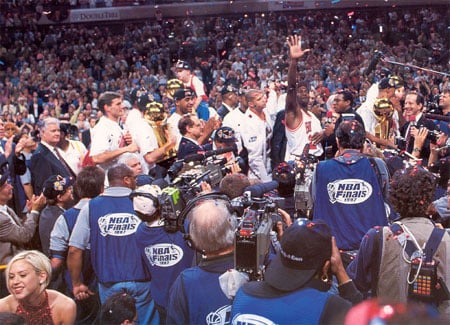 The Bulls defeated Washington 3-0 in round 1 of the finals, in the Conference Semis they beat Atlanta 4-1, and in the Conference Finals they beat Miami 4-1. In the NBA Finals, Mike and the team took the championship by defeating Utah 4-2, despite Jordan's stomach virus in game 5. Mike had a post-season average of 31.1 points, 7.9 rebounds, and 4.8 assists per game.