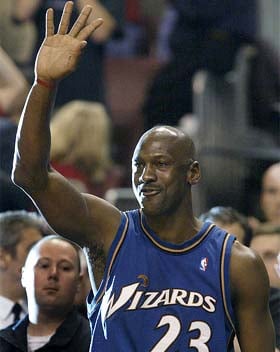 On February 21st, 2003, Michael Jordan became the first person aged 40+ to score 40 points in an NBA game.
Mike also surpassed Wilt Chamberlain for third place on the all-time scoring list with 31,424 points for his career.
This year, MJ finished the season ranked 25th in scoring and 26th in stealing per game, 35th in minutes per game, and 36th in free throw percentage. Throughout the season, Mike scored 20 or more points 42 times, 30 or more 9 times, and 40 or more 3 times in the regular season. The Wizards again did not make the playoffs, ending the season with a record of 37-45. Jordan ended the season with averages of 20 points, 6.2 rebounds, and 3.8 assists per game.

In the 2003 All-Star Game, Michael and the East fell to Kevin Garnett and his West 155-145. For the All-Star Game, Mike had 20 points, 2 steals, 2 assists, and 5 rebounds.
The 2003 season was the last for Michael Jordan as he retired from the NBA for the third time.