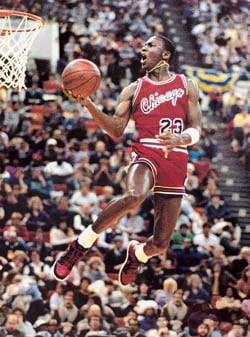 Michael Jordan is not your normal athlete. He is a man that revoluntionalized the sport of basketball. He kick-started the sneaker culture we all love today. Arguably the greatest basketball player of all time. One thing is for certain, he left a mark in the world that could never be matched again by any single man. Standing 6 Foot and 6 inches tall, Michael emerged on the scene in the NBA in 1984. Drafted in the third overall slot by the Chicago Bulls, he would not be your normal rookie that takes years to develop. He snatched up the Rookie of the Year award from his peers. Mike also earned his spot on the All Rookie first team. As a surprise to many, he also earned his spot on the All NBA Second Team.
Mike helped the Bulls overall record improve by 11 games from the previous season. The Bulls had also secured their first playoff spot in 3 years with his help. MJ was voted to the NBA All Star Squad also in 1984 where he put up 7 points in 22 minutes. He set a club single game rookie record when he lit the Detroit Pistons' nets on Fire for 49 points on Feb. 12, 1985.

Mike averaged 28.2 ppg in his rookie season finishing third in league scoring behind the New York Knicks Bernard King and the Boston Celtics Larry "Legend" Bird. Mike was on a record breaking mission during his first season by breaking single season team records in total points (2,313), Field goals (837), Freethrows (630), Freethrow Attempts (746), and Steals (196). After finishing 4th overall in the Central Division, the Bulls faced the Milwaukee Bucks in the first round of the playoffs but fell in 4 games despite the 29.3 ppg series average by Michael.