The offseason after the '92-'93 season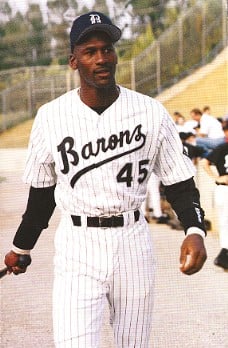 was devastating for Michael Jordan, after hearing the news that his father, James Jordan, was murdered in North Carolina.
Just one day before training camp was supposed to begin, on October 6th, Mike again announced his retirement from the NBA. He left holding the highest scoring average in the history of the NBA, with 32.3 points per game.

Mike decided not to retire from sports after all- but this time, he decided to pursue his childhood dream of playing baseball. Mike was signed to the Birmingham Barons on March 31st, 1994, a Class AA minor league team affiliated with the Chicago White Sox. He wore the same number he wore for the Laney High School team, #45.
Before actually playing with the Barons, MJ played for the Chicago White Sox in the Windy City Classic against the Chicago Cubs. He went 2-5 with 2 RBI's.
In his time spent as an outfielder, MJ had a .202 batting average in 127 games, 114 strikeouts in 436 at bats, 3 home runs, 51 RBI's, 30 stolen bases, and led the Southern League outfielders with only 11 errors.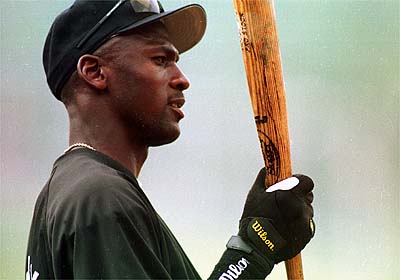 Mike retired from baseball on March 10th, 1995 to return to the NBA to play for the Chicago Bulls. He wore his Barons uniform one more time in 1995 to film the movie "Space Jam" which was released in 1996.