The 1990-1991 season for Michael Jordan and the Chicago Bulls was a very successful one.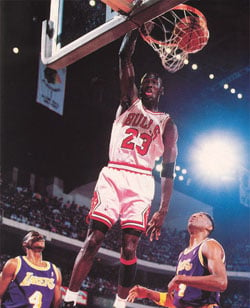 Together the team recorded an all-time club record of 61-21 games and swept the Central Division by 11 games.
MJ won the MVP award for the second time in his career, as well as being an All-Star and a part of both the All-NBA First team and NBA All-Defensive first team yet again.
Michael earned his fifth straight scoring title by scoring over 40 points in eleven different contests. He averaged 31.5 points, 6 rebounds, and 5.5 assists per game, and ranked third in the NBA with 2.72 steals per game.
Michael and the Bulls bulldozed over the New York Knicks in the opening round of the playoffs, defeating them 3-0. The conference semifinals were no problem for the Bulls as well, as they defeated the Philadelphia 76ers in the series 4-1. Facing the Detroit Pistons in the Eastern Conference Finals yet again was an easy task for Michael and the team this time around, as they swept the Pistons in a 4-0 series.

The Chicago Bulls had finally made it to the NBA Finals, and had to square off against the Los Angeles Lakers. After losing game one to L.A., Mike and the team swept the floor with the Lakers by defeating them in four straight games, clinching the Chicago Bull's first ever NBA title.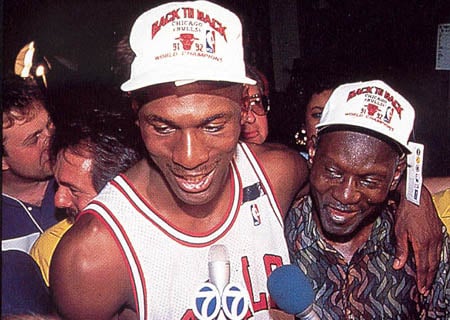 Michael Jordan averaged 31.1 points, 6.4 rebounds, and 8.4 assists during his postseason quest for the NBA Championship, and earned himself the NBA Finals MVP Award.