Mike returned from retirement on Septermber 25th, 2001 for the second time in his career,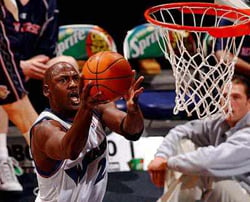 but this time he played for the Washington Wizards.
MJ got off to a good start in the beginning of the season, with 19 points, 6 assists, 5 rebounds, and 4 steals all in 37 minutes of the first game of the season against New York. He led the Wizards in scoring with 22.9 points per game with averages of 5.7 rebounds, 5.2 assists, and 1.4 steals per game for the season. Mike scored his 30,000th career point versus Chicago, and also on December 29th, 2001, he set the MCI Center record when he scored his season-high of 51 points against the Hornets.

Michael missed 22 games because of knee surgery, and the Wizards did not make the playoffs, finishing the regular season with a losing record of 37-45.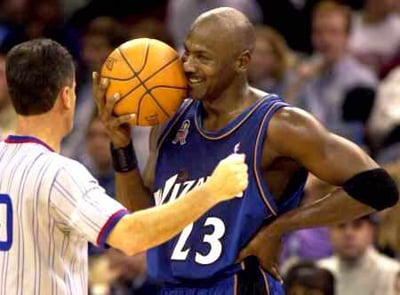 In the All-Star Game, Michael and the East fell to Kobe Bryant and the West 135-120. After missing a first quarter breakaway dunk, things were starting to look downhill for Jordan. He finished the game with 8 points, 4 rebounds, 3 assists, and 2 steals.