Michael Jordan proved that he was all the way back to his old self again by earning his eighth scoring championship, surpassing Wilt Chamberlain by one.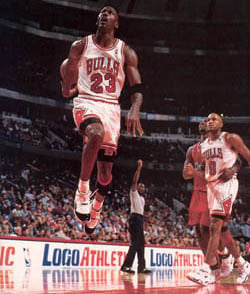 Not only did he lead the Bulls to their fourth NBA Championship in the 1990's, but he became the second person next to Willis Reed (1970) to win MVP's in the regular season, All-Star Game, and NBA Finals all in one season.
Out of all 100 games the Bulls played this season, Michael Jordan started for all of them and was the only person to start all 82 regular season games as well as all 18 of the playoff games.
MJ was not his usual self as far as attacking the basket, but he was more than effective in his jump shooting, and was a dominant three-point threat. Aside from being league-leader with his 30.4 points per game, Mike averaged 6.6 rebounds, 4.3 assists, and 2.20 steals in 37.7 minutes per game. He ranked third in the league in steals, and scored 40 or more points nine different times, with a season high of 53 points. Michael also had a season high of 16 rebounds at New Jersey and eight assists against New York.

In the All-Star Game, MJ only played for 22 minutes but beat out Shaquille O'Neal for All-Star MVP by scoring 20 points, going 8-11 shooting with four rebounds.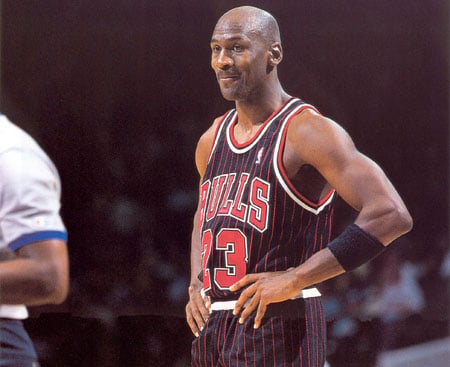 In the first round of the playoffs, Chicago had to face the Miami Heat and defeated them easily 3-0. In the Conference Semifinals, the Bulls played the New York Knicks and defeated them 4-1 with Mike scoring a high of 46 points in game 3. In the Conference Finals, Chicago beat the Orlando Magic 4-0 with MJ scoring a high of 45 points in game 4. In the Finals, the Bulls defeated the Seattle Supersonics 4-2 in the series, and the Bulls walk away with their fourth NBA Title in the 90's, and of course Mike was the MVP. Michael Jordan averaged 30.7 points, 4.9 rebounds, and 4.1 assists for per game for the postseason.