Success looked very promising for the Chicago Bulls during the 1987-1988 season, as they added two talented rookies to the roster. They acquired Horace Grant through the draft and also picked up Scottie Pippen through a trade. With the new talent on the floor, Chicago finished with a record of 50-32, the Bulls' best since the 1974-1975 season.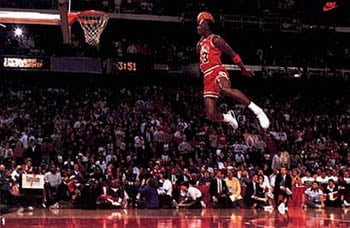 Michael Jordan contributed his part by leading the team in scoring in 81 out of 82 regular season games, and topping 40 points on 18 different occasions. Only three times during the year was Michael not able to score over 20 points. MJ finished the regular season with 35.0 points, 5.5 rebounds, and 5.9 assists.

That year, Michael won every major honor in the NBA:
MVP
Defensive Player of the Year
Selection to the All-Defensive First Team
All-Star Game MVP
NBA Slam Dunk Championship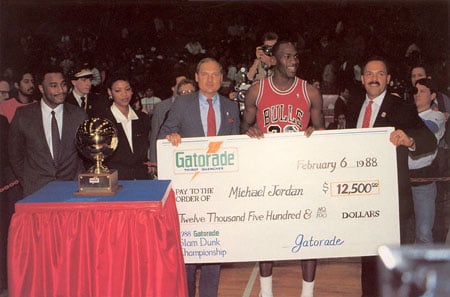 Mike lead the NBA with 35 points and 3.16 steals per game. For the first time in seven years, the Chicago Bulls made it past the first round of the NBA playoffs, but they were defeated by the Detroit Pistons in the conference semifinals. Mike set a playoff record against the Cleveland Cavaliers in the first round of the playoffs by scoring 24 field goals. In the same game, he set another record by attempting 25 shots against the Cavs in a single half.
After 10 playoff games, Michael averaged 36.3 points, 7.1 rebounds, and 4.7 assists per game.