For the 1988-1989 season, Michael Jordan was the league's leading scorer again, with 32.5 points a game and finishing 10th in the NBA in assists, racking up a career high 8.0 per game. Mike also had a career high 8.0 rebounds per game.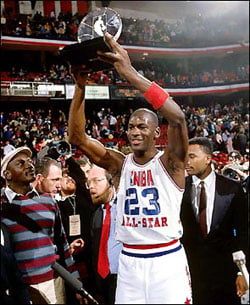 The 88-89 season is said to possibly be Michael's "best all-around performance", as he finished third in the league for steals, averaging 2.89 per game.
Michael Jordan scored the 10,000th point of his career on January 25th, and was named to the East All-Star Team for the fifth consecutive time, scoring 28 points in only 33 minutes time.
Michael Jordan, of course, had postseason honors yet again, consisting of: All-NBA First Team, NBA All-Defensive First Team, and selected as Player Of The Year by The Sporting News.
The regular season record for the Chicago Bulls in 88-89 was 47-35, which was three fewer wins than the previous season. The Chicago Bulls had to face the Cleveland Cavaliers in the first round of the playoffs once again, and defeated them in a 3-2 series. In the conference semis, the Bulls smashed the New York Knicks in a 4-2 series and advanced to the Eastern Conference Finals for only the third time in history, where they were defeated by the Detroit Pistons in a 2-4 series. Michael averaged 34.8 points, 7.0 rebounds, and 7.6 assists per game for the playoffs.