Air Jordan 1 – Air Jordan I
Original Air Jordan 1 (I) Release Colorways
Air Jordan 1 (I) Original Black / Red
Air Jordan 1 (I) Original White / Black – Red
Air Jordan 1 (I) Original Black Toe White / Black / Red
Air Jordan 1 (I) Original AJKO White / Black – Red
Air Jordan 1 (I) Original Black / Royal Blue
Air Jordan 1 (I) Original Black / Grey
Air Jordan 1 (I) Original Grey/Black
Air Jordan 1 (I) Original White / Natural Grey
Air Jordan 1 (I) Original White / Blue
Air Jordan 1 (I) Original White / Black
Air Jordan 1 (I) Original White / Carolina Blue
Air Jordan 1 (I) Original White/Metallic Blue
Air Jordan 1 (I) Original White / Metallic Green
Air Jordan 1 (I) Original White / Metallic Dark Red
Air Jordan 1 (I) Original White / Metallic Purple
Air Jordan 1 (I) Original White / Metallic Orange
Air Jordan 1 (I) Original White / Metallic Black
Air Jordan 1 Low Metallic Blue Low 1985
Air Jordan 1 (I) Original White / Natural Grey Low
Air Jordan 1 (I) Original White/Dark Red Low
Retro Air Jordan 1 (I) Release Colorways
Air Jordan 1 Chicago 1995
Air Jordan 1 Bred (Black Red) 1995
Air Jordan 1 (I) 2001 Retro Black / Varsity Red
Air Jordan 1 (I) 2001 Retro Black / Varsity Royal Blue – White
Air Jordan 1 (I) Retro White / Metallic Silver – Midnight Navy
Air Jordan 1 (I) Retro Neutral Grey / Silver – White
Air Jordan 1 (I) Retro Japan Neutral Grey / Metallic Silver
Air Jordan 1 (I) Retro Japan Black / Black – Metallic Silver
Air Jordan 1 (I) Retro Japan White / White – Midnight Navy
Air Jordan 1 (I) Retro Japan White / Metallic Silver – Midnight Navy
Air Jordan 1 (I) Retro White / Metallic Silver
Air Jordan 1 (I) Retro Patent Leather White / Carolina Blue
Air Jordan 1 (I) Retro Patent Leather White / Black – Varsity Red
Air Jordan 1 (I) Retro Patent Leather Black / Metallic Gold
Air Jordan 1 (I) Retro Low White / White – Metallic Silver
Air Jordan 1 (I) Retro Low White / Black – Midnight Navy
Air Jordan 1 (I) Old Love New Love Retro Package BMP
Air Jordan 1 (I) Retro Stealth / Varsity Royal – Sport Red
Air Jordan 1 (I) Retro Sport Red / White-Varsity Red
Air Jordan 1 (I) North Side Retro Low White / Dark Forest – Light Graphite
Air Jordan 1 (I) South Side Retro Low True White / Varsity Red/Stealth
Air Jordan 1 (I) East Side Retro Low White / Varsity Red – Varsity Royal
Air Jordan 1 (I) West Side Retro Low White / Chlorine Blue – Sonic Yellow
Air Jordan 1 (I) Inline Retro Low Black / Metallic Silver – Varsity Red
Air Jordan 1 (I) China Xq 2007 Retro White / Gold Dust – Sport Red – Black
Air Jordan 1 (I) Retro Alpha University Blue / White – Black
Air Jordan 1 (I) Retro Womens Low Canvas Real Pink / White
Air Jordan 1 (I) Retro White / Blue / Canvas
Air Jordan 1 (I) Retro Womens Low Denim / White – Sport Red
Air Jordan 1 (I) Retro Womens Low White / Denim
Air Jordan 1 (I) Crocodile Pure Retro Low White / Metallic Silver – White
Air Jordan 1 (I) Crocodile Black Cat Retro Low Black / Metallic Silver – Black
Air Jordan 1 (I) Levi Denim Retro Package
Air Jordan 1 (I) Barons Home Opening Day Retro White / Black – Silver
Air Jordan 1 (I) Barons Away Opening Day Retro Black / White – Silver
Air Jordan 1 (I) Delores Jordan (Easter Eggs) Retro Womens Low
Air Jordan 1 (I) Armed Forces Military Retro Pearl White / Hay / Walnut
Air Jordan 1 (I) Armed Forces Military Retro Medium Brown / Urban Haze – Hay – Anthracite
Air Jordan 1 (I) Girls Youth (GS) Retro Grey Violet / Sunburst / White
Air Jordan 1 (I) Grape Head Girls Youth (GS) Retro Grape / Emerald Green / White
Air Jordan 1 (I) Fathers Day Retro Black / White
Air Jordan 1 (I) Fathers Day Retro White / Dark Charcoal / Tweed / Varsity Red
Air Jordan 1 (I) Doernbecher Retro
Air Jordan 1 (I) Retro High Black / Max Orange – White
Air Jordan 1 (I) Tribe Called Quest Midnight Marauders Retro High Strap
Air Jordan 1 (I) Hare – Easter Bunny Retro Light Silver / White – True Red
Air Jordan 1 (I) History
1985 was a great year, not only because Michael Jordan was rookie of the year and played in the All-Star game, but because the Air Jordan 1's were released.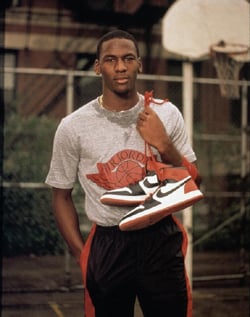 The Air Jordan I was the first shoe to be worn in the NBA with multiple colors. Peter Moore was the man behind the Air Jordan 1 (and also helped design the Air Jordan II). When Michael Jordan first looked at the AJ I, his response was "I'm not wearing that shoe. I'll look like a clown". With time, the shoe slowly grew on him. The original Air Jordan 1 retailed at $65.00.
Soon after the release of the Air Jordan I, David Stern (Commissioner of the NBA), banned the most popular shoe of the decade to be worn by MJ. Every time Michael stepped on the court with a pair he would have to pay a couple thousand dollars.
Nike loved this idea so much that they encouraged MJ to wear the shoes, and Nike would pay the fees. In result, Nike gave the the Air Jordan 1 "The shoe banned by the NBA" label. There was 23 different color variations released, and this is not including the three colorways of the Air Jordan I KO. Each AJ I shoe came with two sets of laces which matched the color combo.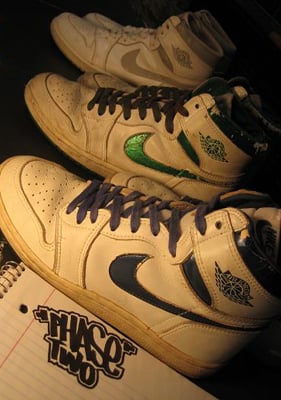 In 1995 Nike re-released the Air Jordan 1, which retailed for $80.00, but they sold terribly, hitting sales racks for $20.00. In 2001-2003 the Air Jordan Retro I once again was re-released, and in 2004 the Air Jordan 1 low made another appearance.