Air Jordan II – Air Jordan 2
Original Air Jordan 2 (II) Release Colorways
Air Jordan 2 (II) Original White / Red
Air Jordan 2 (II) Original White / Black
Air Jordan 2 (II) Original White / Black Low
Air Jordan 2 (II) Original Low White / Red
Retro Air Jordan 2 (II) Release Colorways
Air Jordan 2 (II) 1994 Retro White – Red – Black
Air Jordan 2 (II) 1994 Retro Low White – Red – Black
Air Jordan 2 (II) 2004 Retro White / Varsity Red / Black
Air Jordan 2 (II) Retro Low White / Black – Varsity Red
Air Jordan 2 (II) Retro Black / Chrome
Air Jordan 2 (II) Retro Melo White / Columbia Blue – Varsity Maize
Air Jordan 2 (II) Retro Low White / University Blue – Black
Air Jordan 2 (II) Retro Low White / Metallic Silver – Varsity Maize
Air Jordan 2 (II) Retro Womens Low White / Light Steel Grey – Real Pink
Air Jordan 2 (II) Doernbecher Retro
Air Jordan 2 (II) Countdown Pack Retro White / Varsity Red
Air Jordan 2 (II) Eminem The Way I Am Retro Black / Stealth – Varsity Red
Air Jordan 2 (II) History
The Air Jordan 2 made its first debut in 1986, (which was the white/red colorway) and the other three color ways released in 1987. Designer of this model is Bruce Kilgore and Peter Moore, (both were dismissed from making any more AJ models after the II). In 1986-87 the Air Jordan II retailed at $105.00.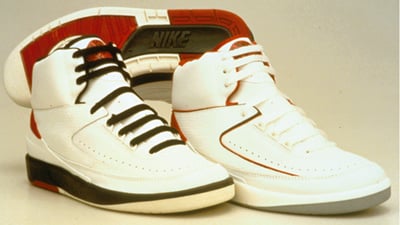 The Air Jordan 2 high tops and low tops were very stylish, making them as popular as the AJ I (according to sales). All Original Air Jordan IIs were made in Italy.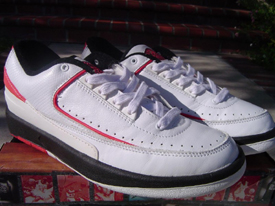 Rumor is after the Original Air Jordan 2 model the mold was either destroyed or was stolen. So when the Air Jordan II re-released in 1994-95, Nike had to dissect the Original pair, and when Jordan Brand re-released the AJ 2 once again in 2004, they had to dissect a pair of the 1994-95 retros. On the AJ II their was not a black color way produced, even though sketches and prototypes were put together. One of the most sought out pair of shoes is the Air Jordan II K.O. Very little are in existence, and also very few pictures are floating around.
In 1995 the Air Jordan 2 was re-released in the high top version, as well as the lows. They had a price tag of $105.00 (same as the originals), but just like the Air Jordan I they did not sell well, hitting sales racks for $20. In 2004 the AJ 2 once again made an appearance, with a price tag of $110.00. Also in 2004-2005 the AJ II lows were released, retailing at $100.00.