For fans of the adidas Yeezy line and Kanye West, we have compiled this section dedicated to the 2019 adidas Yeezy Release Dates. So far two models are confirmed for this year which includes the Yeezy Boost 350 V2 and Yeezy Boost 700. Not only can you find the latest drops here, but we will include any restocks that takes place.
2019 Yeezy Boost 350 V2 Releases
The 350 Boost V2 looks to have another strong year from Kanye West and the Three Stripes brand. Starting off the month of January we got another chance to purchase the 'Butter' edition which was a restock. As for the other colorways, images have yet to leak at the time of writing but both the 'Hyperspace and 'True Form' are said to be special and limited releases.
During Spring, we will also see the 'Clay' Yeezy Boost 350 V2 release which features a Grey upper, translucent side stripe and Clay Orange detailing. One of the bigger rumors for 2019 is a Glow in the Dark edition known as GID. The model is said to fully illuminate a shade of Green – Yellow when activated. A slight retail price change will take place on this release and will cost you $250 instead of the traditional $220.
2019 Yeezy Boost 700 Releases
For the Yeezy Boost 700 releases, so far we have three confirmed to launch this year which will start to debut during Spring and the Salt pair as early as this month (February). The Salt, which is probably the more cleaner pair of the trio is also joined by the Inertia and Analog edition. Not only will the three release in adult sizing, but also in kids and toddler sizing.
Other 2019 Yeezy Releases
While not confirmed, it's said that the Yeezy Boost 350 V3 will debut at retailers this Summer. No specific colors have been mentioned. We also have the Yeezy Basketball model coming after years of talk and is known as the adidas Yeezy Basketball Quantum. Another drop said to come is the 700 V2 'Geode' which is an updated version of the 700. Last but not least is the Yeezy 451 which has a midsole that extends onto the upper.
Below you can check out the entire 2019 adidas Yeezy Releases so far. This section will also be updated constantly with prices, first looks, restocks and other leaks. Visit the comments section and let us know what you plan on buying.
2019 adidas Yeezy Release Dates

adidas Yeezy Boost 350 V2 'Butter' Restock
Color: Butter/Butter-Butter
Restock Date: January 11, 2019
Style Number: F36980
Price: $220

adidas Yeezy Boost 700 'Salt'
Color: Salt/Salt-Salt
Release Date: February 23, 2019
Style Number: EG7487
Price: $300

adidas Yeezy Boost 700 'Inertia'
Color: Grey/Grey-Inertia
Release Date: March 9, 2019
Product Number: EG7597
Price: $300

adidas Yeezy Boost 350 V2 'Hyperspace'
Release Date: March 16, 2019
Style Number: EG7491
Price: $220

adidas Yeezy Boost 350 V2 'True Form'
Release Date: March 16, 2019
Style Number: EG7492
Price: $220

adidas Yeezy Boost 700 V2 'Geode'
Color: Geode/Geode-Geode
Release Date: March 23, 2019
Style Number: EG6860
Price: $300

adidas Yeezy Boost 350 V2 'Clay'
Color: Clay/Clay-Clay
Release Date: March 30, 2019
Style Number: EG7490
Price: $220

adidas Yeezy Desert Boot 'Rock'
Release Date: April 13, 2019
Price: $200

adidas Yeezy Desert Boot 'Oil'
Release Date: April 20, 2019
Price: $200

adidas Yeezy Boost 700 'Analog'
Release Date: April 27, 2019
Style Number: EG7596
Price: $300

adidas Yeezy Boost 350 V2 'Clay' Restock (Kids and Toddler Sizes)
Color: Clay/Clay/Clay
Style Number: EG6881 – Toddler
Style Number: EG6872 – Kids
Restock Date: May 18, 2019

adidas Yeezy Boost 350 V2 GID (Glow in the Dark)
Color: Glow/Glow-Glow
Release Date: May 25, 2019
Style Number: EG5293
Price: $250

adidas Yeezy Boost 700 V2 'Vanta'
Color: Vanta/Vanta-Vanta
Release Date: June 6, 2019
Style Number: FU6684
Price: $300

adidas Yeezy Boost 350 V2 'Black Reflective'
Color: Black/Black-Black
Release Date: June 6, 2019
Style Number: FU9007
Price: $220

adidas Yeezy Boost 350 V2 'Black'
Color: Black/Black-Black
Release Date: June 7, 2019
Style Number: FU9006
Price: $220

adidas Yeezy Boost 700 V2 'Tephra'
Color: Tephra/Tephra-Tephra
Release Date: June 15, 2019
Style Number: FU7914
Price: $300

adidas Yeezy Boost 350 V2 'Synth Reflective'
Color: Synth/Synth-Synth
Release Date: June 21, 2019
Price: $220

adidas Yeezy Boost 350 V2 'Antlia Non-Reflective'
Color: Antlia/Antlia-Antlia
Release Date: June 22, 2019
Style Number: FV3250
Price: $220

adidas Yeezy Boost 350 V2 'Synth Non-Reflective'
Color: Synth/Synth-Synth
Release Date: June 22, 2019
Price: $220

adidas Yeezy 350 V2 'Antlia Reflective'
Color: Antlia/Antlia-Antlia
Release Date: June 27, 2019
Style Number: FV3255
Price: $220

adidas Yeezy Boost 700 'Utility Black'
Color: Utility Black
Release Date: June 29, 2019

adidas Yeezy Boost 350 V2 'Reflective Lundmark'
Color: Lundmark/Lundmark/Lundmark
Release Date: July 11, 2019
Style Number: FV3254
Price: $250

adidas Yeezy Boost 350 V2 'Lundmark'
Color: Lundmark/Lundmark/Lundmark
Release Date: July 13, 2019
Style Number: FU9161
Price: $220

adidas Yeezy Boost 700 'Wave Runner'
Color: Solid Grey/Chalk White-Core Black
Release Date: August 17, 2019
Style Number: B75571
Price: $300

adidas Yeezy 500 'Bone White'
Color: Bone White/Bone White-Bone White
Release Date: August 24, 2019
Style Number: FV3573
Price: $200

adidas Yeezy Boost 700 V2 'Inertia'
Color: Inertia/Inertia-Inertia
Release Date: September 7, 2019
Style Number: FW2549
Price: $300

adidas Yeezy Boost 700 'Magnet'
Color: Magnet/Magnet-Magnet
Release Date: September 9, 2019
Product Number: FV9922
Price: $300

adidas Yeezy Desert Boot 'Salt'
Color: Salt/Salt-Salt
Release Date: September 14, 2019
Style Number: FV5677
Price: $200

adidas Yeezy Desert Boot 'Oil'
Color: Oil/Oil-Oil
Restock Date: September 14, 2019
Style Number: EG6463
Price: $200

adidas Yeezy Desert Boot 'Rock'
Color: Rock/Rock-Rock
Restock Date: September 14, 2019
Style Number: EG6462
Price: $200

adidas Yeezy Powerphase 'Clear Brown'
Release Date: September 18th, 2019
Price: $120

adidas Yeezy Powerphase 'Simple Brown'
Release Date: September 18th, 2019
Price: $120

adidas Yeezy Powerphase 'Quiet Grey'
Release Date: September 18th, 2019
Price: $120

adidas Yeezy Boost 350 V2 'Cloud White Reflective'
Color: Cloud White/Cloud White-Cloud White
Release Date: September 19, 2019
Price: $250

adidas Yeezy Boost 350 V2 'Cloud White'
Color: Cloud White/Cloud White-Cloud White
Release Date: September 22, 2019
Style Number: FW3043
Price: $220

adidas Yeezy Boost 350 V2 'Citrin'
Color: Citrin/Citrin-Citrin
Release Date: September 23, 2019
Style Number: FW3042
Price: $220

adidas Yeezy Boost 350 V2 'Citrin Reflective'
Color: Citrin/Citrin-Citrin
Release Date: September 24, 2019
Price: $250

adidas Yeezy Boost 700 V2 'Hospital Blue'
Color: Hospital Blue/Hospital Blue-Hospital Blue
Release Date: September 28, 2019
Product Number: FV8424
Price: $300

adidas Yeezy Boost 700 'Teal Blue'
Color: Teal Blue/Teal Blue-Teal Blue
Release Date: October 26, 2019
Style Number: FW2499
Price: $300

adidas Yeezy 500 'Soft Vision'
Color: Soft Vision
Release Date: November 2, 2019
Style Number: FW2656
Price: $200

adidas Yeezy Boost 380 'Alien'
Color: Alien
Release Date: November 16, 2019
Style Number: FB6878
Price: $230

adidas Yeezy 500 'Stone'
Color: Stone/Stone-Stone
Release Date: November 23, 2019
Style Number: FW4839
Price: $200

adidas Yeezy Boost 350 V2 'Black'
Color: Black/Black-Black
Restock Date: November 29, 2019
Style Number: FU9006
Price: $220

adidas Yeezy Slide 'Resin'
Release Date: December 6, 2019
Price: $55 – $45 – $35

adidas Yeezy Slide 'Bone'
Release Date: December 6, 2019
Price: $55 – $45- $35

adidas Yeezy Slide 'Desert Sand'
Release Date: December 6, 2019
Price: $55 – $45 – $35

adidas Yeezy Boost 380 'Alien'
Color: Alien
Release Date: December 12, 2019
Style Number: FB6878
Price: $230

adidas Yeezy Boost 350 V2 'Yeezreel'
Color: Yeezreel/Yeezreel-Yeezreel
Release Date: December 14, 2019 – Non-Reflective
Release Date: December 17, 2019 – Reflective
Style Number: FW5191
Price: $220-$250

adidas Yeezy 500 High 'Slate'
Color: Slate/Slate-Slate
Release Date: December 16, 2019
Style Number: FW4968
Price: $220

adidas Yeezy Boost 700 'Carbon Blue'
Color: Carbon Blue/Carbon Blue-Carbon Blue
Release Date: December 18, 2019
Style Number: FW2498
Price: $300

adidas Yeezy Boost 350 V2 'Yecheil'
Color: Yecheil/Yecheil-Yecheil
Release Date: December 19, 2019 – Reflective
Release Date: December 20, 2019 – Non-Reflective
Style Number: FW5190
Price: $220-250

adidas Yeezy Boost 350 V2 'Zebra'
Color: White/Core Black-Red
Restock Date: December 21, 2019
Style Number: CP9654
Price: $220

adidas Yeezy 700 V3 'Azael'
Color: Azael/Azael-Azael
Release Date: December 23, 2019
Style Number: FW4980
Price: $180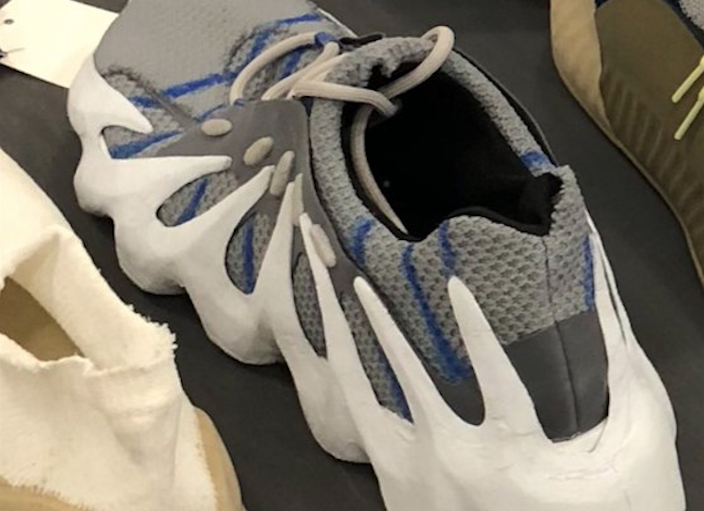 adidas Yeezy 451
Release Date: TBA

adidas Yeezy Basketball Quantum
Color: Quantum/Quantum-Quantum
Release Date: February 2020
Product Number: EG1535