Typically comprised of amateur players, a 1989 rule change by FIBA altered the path of the United States men's national basketball team. In '92, the first wave of professional athletes laced up their sneakers and walk onto the court ready to bring home the gold.
With what is now known as the Dream Team, a roster filled with 13 future Hall of Famers (10 players, 3 coaches), had been formed. Before there were super teams stacking conferences in order to obtain a Championship, there were a group of individuals, some of the fiercest competitors to ever grace the hardwood, strategically placed along side one another for one common goal… to prove USA Basketball was the best in the world.
With the superstars like Michael Jordan, Scottie Pippen, Magic Johnson, Larry Bird & Charles Barkley on the floor, we not only saw one of the greatest teams ever assembled; we watched in awe as they dominated each and every team while wearing some of the most iconic sneakers (and brands) in sneaker history.
Fast forward to 2011… these sneakers are not only iconic, they are still relevant today. Lets take a look back at the footwear worn by one of the greatest teams ever put together. After you take a look, share which pair(s) are your favorite along with which pair(s) are still in your collection / rotation today.
Michael Jordan: Air Jordan 7 Olympic
The GOAT himself rocking the Air Jordan VII in the 'Olympic' colorway. Considered one of the best colorways featured on the Air Jordan VII, MJ not only won the gold in these but also grabbed his second straight NBA Championship.
Michael Jordan showing off the Air Jordan 7 Olympic soles with Magic Johnson
Jordan going up for another successful dunk rocking the Olympic Jordan VII
Michael Jordan driving through the lane rocking the Olympic 7
Side view of the Original Air Jordan VII Olympic
Charles Barkley: Nike Air Force 180
Barkely was a beast in his prime. While teaming up with some of the best player of all time, Sir Charles shined all on his own while sporting the Nike Air Force 180. Boasting the same Olympic styled theme, these are now considered classics amongst collectors, enthusiasts and casual sneaker wearers alike. They were so popular that Nike decided to revamp the sneaker with a vulcanized sole, otherwise known as the Nike Auto Force 180, to cater to the masses whom prefer to wear their kicks casually.
Charles Barkley charging the ball with the Air Force 180
Charles Barkley and Karl Malone on a bus ride showing off the Air Force 180 soles
Barkley with Ewing and Jordan resting up with the Nike Air Force 180
1992 Original Nike Air Force 180 Olympic, worn by Charles Barkley
Scottie Pippen: Nike Air Flight Lite
Fresh off their first Championship, Scottie Pippen & Michael Jordan took the floor once again as teammates while lacing up the Nike Air Flight Lite. Back in the 90's, a fresh pair of Flights could be seen all across the U.S. As they were the most versatile basketball shoe at a decent price. Not only was Nike's Flight line popular in the 90's, it is still going strong today with Retro releases and modernized versions of older classics such as the Nike Flight Lite 2010.
Scottie Pippen blocking a layup in Air Flight Lite
Scottie Pippen Guarding Toni Kukoc 1992 Olympics
Pippen Taking the Ball Up Court
Original Nike Air Flight Lite Scottie Pippen wore in 1992
Magic Johnson: Converse Magic USA
One of the greatest PG's of all time came back to play the game we all know and love. Voted by fan as a starter for the 1992-93 ASG, Magic also laced up his Converse Magic USA's while obliterating the competition with his size, style and grace during the USA Team chased Olympic Gold. While Converse may not have the star power it used to, they are still considered a classic brand amongst many who remember the humble beginnings of playing ball in a canvas high & low top known as the Chuck Taylor.
Magic Johnson taking the ball up-court in Converse Magic USA
Magic Johnson no look pass to Ewing with the Converse Magic USA
Magic with Drexler and Jordan on the side line
Magic Johnson Converse Magic USA
Patrick Ewing: Next Sports Patrick Ewing Eclipse Hi
A young Patrick Ewing added his defensive skills to the lineup while wearing the Next Sports Patrick Ewing Eclipse Hi. This is one of those brands that you may remember vaguely or forgot about completely. Owning a pair of OG Ewing's is no easy feat, those who do will most likely never part with their rare oddity in sneaker history.
Patrick Ewing high fives Barkley and Robinson in the Eclipse Hi
Patrick Ewing fad-away jump shot during the 1992 Olympics
Patrick Ewing getting into the game against Croatia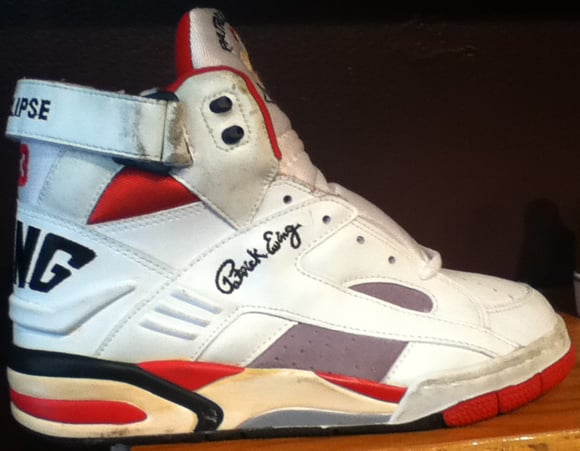 Patrick Ewing Eclipse Hi
David Robinson: Nike Air Ballistic Force
Another classic amongst the crowd, David Robinson wore the Nike Air Ballistic Force. With its military styled silhouette and midfoot strap, this was the sneaker made for big men who were ready for war. With its timeless style and on court performance, Nike took inspiration from the Ballistic Force and subtlety incorporated design aspects into the Nike Zoom Barcelona Hybrid.
David Robinson and the Nike Air Ballistic Force in mid air
David Robinson and 1992 Dream Team Squad
Robinson defending the basket in the Air Ballistic Force
David Robinson Nike Air Ballistic Force Olympic
Karl Malone: LA Gear Catapult
Long before APL produced performance enhancing sneakers, Karl Malone rocked the LA Gear Catapult. With its spring loaded 'Power Feedback System', LA Gear actually had been a contender with major brands in the early 90's. Nike even filed suit against the brand which they claimed infringed on their patented 'Spring Moderator' technology. Pretty crazy for a brand who ended up being sold at Pay-less towards the end of its lifespan.
Karl Malone with Olympic and Jazz teammate John Stockton
Karl Malone and the L.A. Gear Catapult going for a Layup
Karl Malone Scoring another 2 Points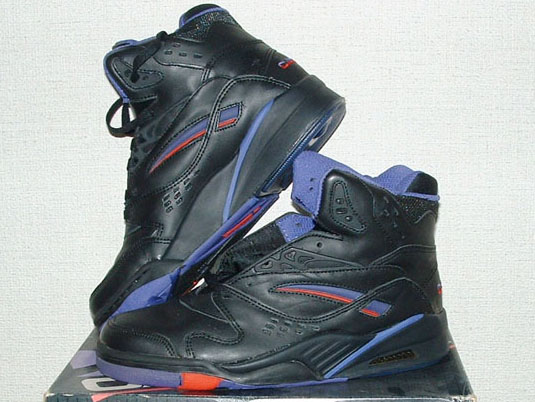 Karl Malone L.A. Gear Catapult
John Stockton: Nike Air Ballistic Force
Not only did David Robinson sport the Ballistic Force, but the smallest player on the court also took to the stage while wearing this heavy duty high top. John Stockton would eventually fill the empty shoes left by Magic Johnson's retirement as one of the premier PG's in the game. If you handed a pair of Nike Ballistic Forces to a Point Guard today, he'd probably look at you like you were crazy.
John Stockton and the rest of the 1992 Olympic team
John Stockton and Clyde on Defense
John Stockton Passing in the Air Ballistic Force
John Stockton Nike Air Ballistic Force
Larry Bird: Converse Bird USA
Larry Bird was the Yin to Magic's Yang back in the 80's/ 90's. With the two battling it out with one another since College, it shows just how prevalent Converse was as a brand as they were able to sign both Bird and Magic as the dual faces of the brand. While we don't often see Converse Retro models in original form, it would be a treat to see the Converse Bird & Magic USA's make another appearance in the near future.
Larry Bird with Ewing in the Training Room
Larry Bird and the rest of the Dream Team at Opening Ceremony
Larry Bird with Magic, Jordan, Malone and Ewing on the Court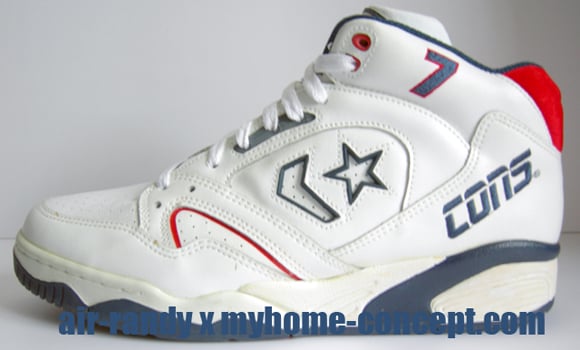 Larry Bird Converse Bird USA
Chris Mullin: Nike Air Flight Lite
Chris Mullen also wore the Nike Air Flight Lite alongside Scottie Pippen. With half the team laced up in Nike's, we can all agree that this was only the beginning to Nike's reign in the sport industry… and they are still the top brand in the market today.
Chris Mullin in the lane wearing the Air Flight Lite
Chris Mullin wearing the Air Flight Lite on a Skybox card
Chris Mullin looking for an Open Man
Chris Mullin Nike Air Flight Lite
Christian Laettner: Nike Air Flight Huarache
We've seen the Nike Air Flight Huarache make Retro returns and the tech used is still just as popular today as it was in 1992. With a slew of neoprene lined footwear, even seen on the Air Jordan VII, this minimalist hoop shoe was one of Christian Laettner's best attributes on court. All joking aside, the Huarache is a prime example of just how relevant these older classics are in footwear today.
Christian Laettner in the Locker Room wearing Air Flight Huarache
Christian Laettner Setting up a play
Christian Laettner Ceremony 1992 Olympic
Christian Laettner Nike Air Flight Huarache
Clyde Drexler: Avia
Clyde Drexler had just signed with brand Avia, previously he had been signed to Kangaroos (way before my time). Clyde was flying high bringing home the gold with his new teammates… two of which had crushed his dreams of taking home a ring that very same year. Clyde eventually completed his NBA quest in 1995 while a member of the Houston Rockets.
Clyde Drexler taking ball up court
Clyde Drexler on defense 1992 Olympic
Clyde Drexler guarding the rock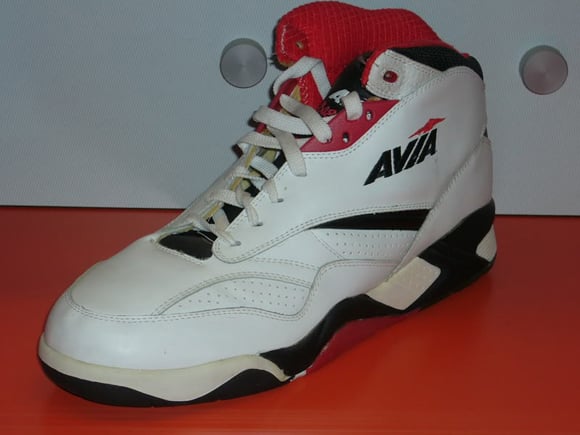 Not the shoe Clyde wore in the 1992 Olympic, but a pair of Avia he wore eventually