Earvin "Magic" Johnson once proclaimed, "There's Michael Jordan and then there is the rest of us." Statistically and stylistically speaking, Jordan was more poetic than T.S. Eliot, more daring than Knievel, and more electrifying than Einstein. MJ's NBA.com biography maintains, "By acclamation, Michael Jordan is the greatest basketball player of all time." And with two Olympic Gold Medals, six NBA Championship Rings, one NCAA Championship, five NBA MVP Yearly Awards, six NBA Finals MVP nominations, and a ten-time NBA Scoring leader all under his belt, it's hard to argue with that venturesome, yet undeniably authentic statement. The man's images transcends the global transition hoops has made, as bald heads, Air Jordan sneakers, and folded socks are commonplace anywhere from the asphalt in NYC to dirt courts in Beirut.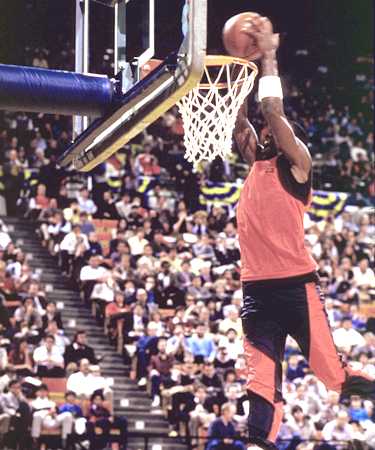 NBA pundits always maintained, "Spudd Webb floated, but Michael Jordan flew." And whether it was his One-Handed Reverse in '85, (With gold chains to match!) Kiss-the-Rim to seal his first Dunk Contest Victory in 1987, or free-throw line Julius Erving recreation that next year, this tongue-wagging impresario always seemed to hang in the air for just too long, or defy gravity in ways that probably went against federal health regulations. Michael's legendary duel with aerial artist Dominique Wilkins in 1988 in The Windy City helped solidify the NBA Dunk Contest as a must-see pop culture event.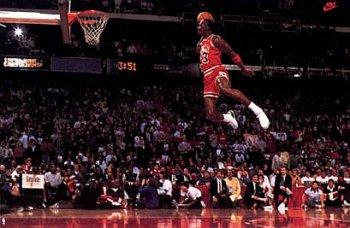 Always marketing his signature wares, Jordan wore a black/red Nike sweat suit and the black/red version of the Jordan I (1) in the 1985 competition. Michael has the highest grossing signature shoe line of all time, and I can personally guarantee that the high majority of our readers have one or several Jumpman gems locked away in the closet.