Spud Webb (born Anthony Jerome Webb), is the shortest person to ever compete in the NBA. In 1986, Webb won the NBA Slam Dunk Contest (presented by Sprite). His participation shocked the media and his teammates, by defeating two-time winner and defending dunk champion, Dominique Wilkins.

Spud Webb's contest dunks included the elevator two-handed double pump dunk, the one-handed off the backboard one-handed jam, a 360-degree helicopter one-handed dunk, a 180-degree reverse double-pump, and the 180-degree reverse 'two-handed Strawberry Jam' from a lob bounce off the floor.

Twenty years after Webb's victory, he trained New York Knicks point guard Nate Robinson.

Peep our top ten list of the Top 10 Slam Dunk Contest Trendsetters (presented by Sprite).

Share your thoughts and debate our choices of the top 10 (Sprite) Slam Dunk Contest Trendsetters by clicking below!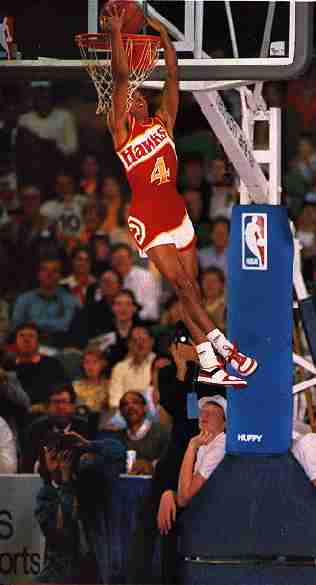 Standing at just 5 feet 9 inches tall, Nate Robinson jumped over Webb and dunked. Robinson earned 50 points from the judges and went on to win the NBA Dunk Contest (presented by Sprite), making him the second player under six feet to win since Webb.




Webb wore a pair of Pony City Wings lowtop sneakers for the contest (retro edition pictured below) which attracted minimal attention.