Air Jordan VII – Air Jordan 7
Original Air Jordan 7 (VII) Release Colorways
Air Jordan Original 7 (VII) Hare White / Light Silver – True Red
Air Jordan Original 7 (VII) Bordeaux Black / Light Graphite – Bordeaux
Air Jordan Original 7 (VII) Black / Dark Charcoal – True Red
Air Jordan Original 7 (VII) Olympic White / Midnight Navy / True Red
Air Jordan Original 7 (VII) Cardinal White / Black – Cardinal Red
Retro Air Jordan 7 (VII) Release Colorways
Air Jordan 7 (VII) Retro Raptors Black / Dark Charcoal – True Red
Air Jordan 7 (VII) Retro White / French Blue – Flint Grey
Air Jordan 7 (VII) Retro Olympic White/Metallic Gold-Midnight Navy-True Red
Air Jordan 7 (VII) Retro Black / Chambray – Light Graphite
Air Jordan 7 (VII) Retro Pearl White / Bright Ceramic – Pacific Blue
Air Jordan 7 (VII) Retro White / Black – Cardinal Red – Bronze
Air Jordan 7 (VII) Retro White / Varsity Purple – Flint Grey
Air Jordan 7 (VII) Retro Womens White / Varsity Maize – Black
Air Jordan 7 (VII) Retro Black / Citrus – Varsity Red
Air Jordan 7 (VII) Retro Hare White / Light Graphite – True Red Countdown Pack
Air Jordan 7 (VII) Retro Miro Olympic OC
Air Jordan 7 (VII) History
Tinker Hatfield could be inspired by anything when it comes to the Air Jordan line.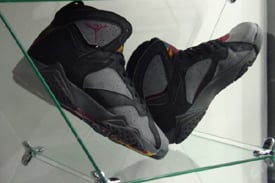 On the Air Jordan 7 when Tinker was in Portland, he saw a poster that was African art, influenced by an Afropop Worldwide. The person in the poster was playing a guitar shaped like Africa. Around the time when Tinker was ready to design the Air Jordan VII Michael sat down with him and mentioned that he wanted the shoe to "stay young and interesting, while remaining sophisticated".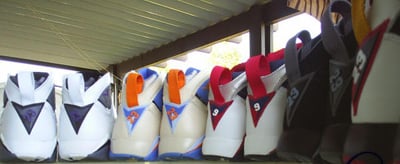 Tinker had now went inside the store and asked to purchase the poster, but the owner did not want to sell it because he was advertising a radio show and the Afropop music. Tinker had now told him he worked on the design of the Air Jordan line. The store owner decided to sell the poster to him for $15. All the lines on the Air Jordan 7 were influenced by Western African tribal patterns, which were on the poster. The
Air Jordan VII
was also worn by Michael Jordan in the 1992 Barcelona Olympics. Nike had made a special "Olympic" color way, and instead of the number "23" there was 9 on the back.
In 1992 Nike had released five color ways of the Air Jordan 7. They sold for $125.00 each. In 2002 two more models came out retailing at $125.00. In 2004 the Olympic VIIs came out and sold for $130.00. Now in 2006 four models released which sold for $135.00, and one women's model sold for $130.00.