Air Jordan V – Air Jordan 5
Original Air Jordan 5 Release Colorways
Air Jordan 5 (V) Original White / Black – Fire Red
Air Jordan 5 (V) Original Black / Black – Metallic Silver
Air Jordan 5 (V) Original Grapes White / Grape Ice – New Emerald
Air Jordan 5 (V) Original Fire Reds White / Red – Black 23
Retro Air Jordan 5 Release Colorways
Air Jordan 5 (V) 2000 Retro White / Black – Fire Red
Air Jordan 5 (V) 2000 Retro Black / Black – Metallic Silver
Air Jordan 5 (V) 2000 Retro Laney High School White / Varsity Royal – Varsity Maize
Air Jordan 5 (V) Retro White / Metallic Silver – Black
Air Jordan 5 (V) Retro Black / University Blue – White
Air Jordan 5 (V) Retro Green Beans Silver-Green Bean-Flint Grey
Air Jordan 5 (V) Retro Womens White/Fire Red-Sunset-Dark Cinder
Air Jordan 5 (V) 2006 Retro Grapes White/Grape Ice-New Emerald
Air Jordan 5 (V) Retro White / Sport Royal / Stealth
Air Jordan 5 (V) Retro Womens Silver / Shy Pink – Stealth
Air Jordan 5 (V) Retro Undefeated Olive/Oiled Suede-Flight Satin
Air Jordan 5 (V) Retro Deep Burgundy / Flint Grey – White
Air Jordan 5 (V) Retro Womens Low White / University Blue – Team Red
Air Jordan 5 (V) Retro Laser White / Army Olive – Solar Orange – Bison
Air Jordan 5 (V) Retro Low Womens White / Black – Metallic Silver
Air Jordan 5 (V) 2006 Retro Fire Reds White / Fire Red – Black
Air Jordan 5 (V) 2007 Retro Black / Metallic Silver – Red 23
Air Jordan 5 (V) History
The Air Jordan 5 was released in February 1990. Four models of the Air Jordan V was released to the public.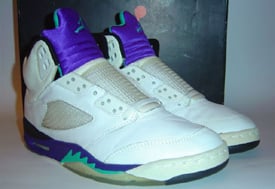 Two models which are the Black/Black-Metallic Silver and White/Fire Red-Black had MJs number "23" on the side. Limited to only 100 pairs each, and were given to unfortunate kids or auctioned off as charity.
The Air Jordan V was the first in the Air Jordan line to have a clear rubber sole. Tinker Hatfield also designed the Nike Marty MacFly's featured in the movie Back to the Future II, they had clear molding which allowed light to come through, and that is were Tinker got the idea from.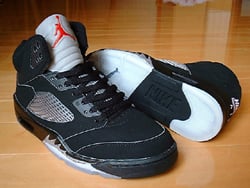 Also the AJ 5 was the first time anyone had ever molded foam into a shoe upper.
When you look at the AJ V besides the icy soles, what else do you notice? What I notice is the flames on the side. Tinker came to the conclusion that the way Michael performed was "like a Fighter Plane". When the AJ 5 was designed, the inspiration was "grey nurse shark" or Super marine Spitfire MkVIII, which is a World War II British fighter plane. To add to the finishing touches of the shoe, Tinker added a reflective 3M tongue with Jumpman embroidery.
When the Air Jordan 5 first came out in 1990 they retailed for $125.00. In 2000 when the AJ V made its second appearance they sold for $120.00. 2006 Jordan Brand will re-release the Air Jordan V once again, but this time with a $135.00 price tag.