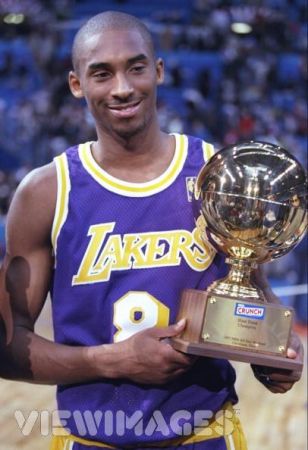 At just 19 years old, a scrawny Kobe Bryant took the '96 NBA All-Star Weekend Dunk Contest (presented by Sprite) by storm with a flurry of peach basket assaults. At an age when most kids fill their time participating in suggestive discussions on sneaker websites (like Sneaker Files for example) and avoiding girls at all costs, KB8 was schooling grown folk with a freewheeling demeanor and a high school diploma. The 6'6" Bryant left his comfortable perch at Lower Merion High School in Pennsylvania and nested in Los Angeles after a draft day trade that involved the Charlotte Hornets and the mythical Vlade Divac.

Peep our top ten list of the Top 10 Slam Dunk Contest Trendsetters (presented by Sprite).

Share your thoughts and debate our choices of the top 10 (Sprite) Slam Dunk Contest Trendsetters by clicking below!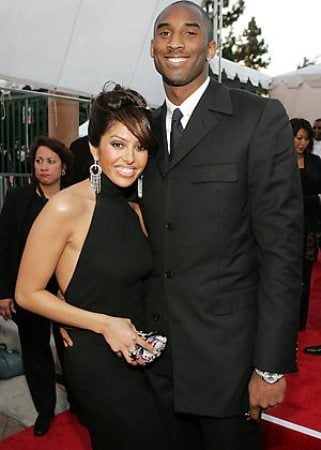 That February, Kobe entered into the NBA All-Star Dunk Contest. Held in Cleveland's cavernous Gund Arena, Bryant's supporting cast for the evening was Chris Carr, Ray Allen, Michael Finley, Bobby Sura, and Darvin Ham. His prom date, the always effervescent Brandy, was in the crowd gleefully giggling as KB did his thing. From the outset, the teenager generated energy with two variations of under-the-basket reverse dunks, all while wearing his warm-up top! In the finals, Kobe removed his pregame top, opting for the full-uniform look and a between-the-legs one-handed slam to win it! Without a doubt, the 1997 NBA All-Star Dunk Contest was infamously boring. Filled with an unassuming group of flashes in the pan, (Carr) journeymen (Ham), sweet shooters who once had hops (Sura, Allen, Finley), Kobe's juvenile acrobatics shined above all. (Allen is a perennial All-Star, and Fin has Chips, so you can't discount them!) And consider the fact that Kobe was only 19—most of his peers were probably transitioning into college or playing Sega Genesis—and his accomplishment is even more special!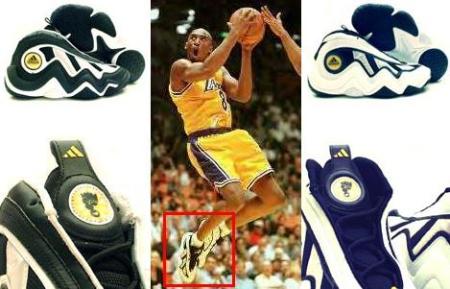 Below the ankles, Kobe sported a pair of the adidas EQT Elevations. The abstract shoe incorporated Adi's Three Stripes branding in a forward-canted reflective format. Under the hood, the Elevation offered Feet You Wear technology, a futuristic outsole technology that imparted a more holistic fit and natural gait cycle. Since his Dunk Contest days, Bryant has had signature lines with both adidas and Nike.