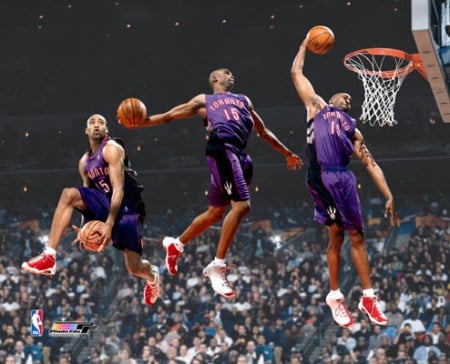 Upon being traded to the Toronto Raptors by way of a draft day trade with the Golden State Warriors, the freakishly athletic Vince Carter drew several comparisons to one Michael Jordan. Both were former members of the Tobacco Road fraternity, both stood 6'6", and both had an undeviating sense of confident braggadocio on-court. Oh, VC and MJ had hops, too. So it was only natural that Carter, the ex-Tar Heel, entered the NBA All-Star Dunk Contest (presented by Sprite). Just like his self-confident progenitor, history would be made when he prepared for liftoff that fateful night.

Peep our top ten list of the Top 10 Slam Dunk Contest Trendsetters (presented by Sprite).

Share your thoughts and debate our choices of the top 10 (Sprite) Slam Dunk Contest Trendsetters by clicking below!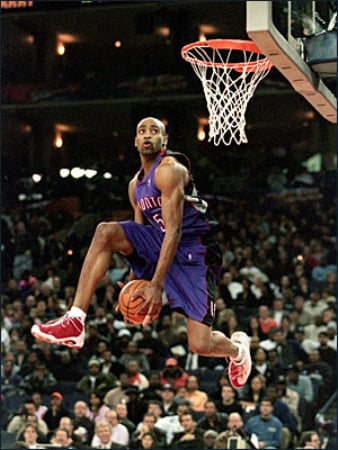 With an array of above-the-rim delights, Carter confidently crushed the competition in the 2000 NBA All-Star Contest in Oakland, California. Vincent opened things up with an authoritative 360 Windmill and enticed crowds with the "cookie jar" (A bong that involved VC's elbow fully entering the goal.) and a between-the-legs bounce dunk. That same year, Mr. Carter made French toast out of 7'2" French National Team Member Frederic Weiss, jumping over his head, and knocking one down! Hoops aficionados around the world wondered—what does the Raptors forward have force next? Unfortunately, his jumping career was slowed down by a string of nasty knee injuries, and he was never quite able to recapture the aerial glory he experienced in the 2000 Dunk Contest (presented by Sprite).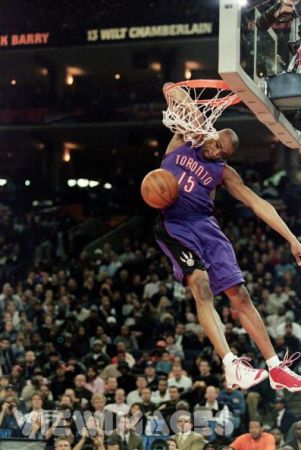 It's important to note that Carter was wearing a white/red version of the AND1 Tai Chi Mid. The holistic shoe was inspired by the Chinese principle of Yin and Yang. The model featured a white premium leather lateral side and rich, luxurious suede medial flank. This incongruous half-and-half application looked extremely appetizing when Vince flew to the rim for a gravity-shattering slam. Read more about our Top 10 Slam Dunk Contest Trendsetters (presented by Sprite).