"A Boston Celtic rookie is in the Dunk Contest?" Diehard NBA fans couldn't believe the news—after all—the Celts were governed by unwavering fundamentals and future Hall of Famers. Summoned from sunny Jacksonville, Florida with the 19th Pick in the 1990 draft, DeCovan "Dee" Brown was a slight 6'1", 170 lbs. point God who provided inhuman hops, timely passing, and agile offense. It was his out-'o-this-world jumps that garnered All-Star Voter attention and got him selected into the 1991 NBA All-Star Dunk Contest (presented by Sprite) in Las Vegas.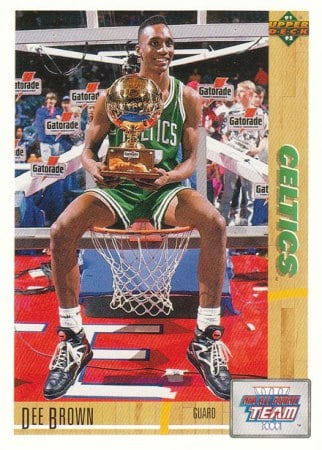 Leading up to the contest, Dee received counsel from the most unlikely of sources. He recounts, "The guys who helped me the most were Kevin McHale and Larry Bird. And I was like, 'you guys haven't dunked in five years and you're going to teach me how to dunk? You can't even dunk anymore!' Brian Shaw, Kevin Gamble, Reggie Lewis and those guys weren't giving me pointers, it was the old guys."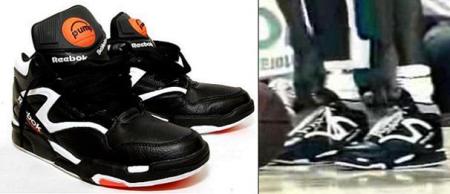 With the sagely advice inundating his neurological, Dee-licioius proceeded to show up the Sin City with a flurry of tawdry slams that excited even the most garish characters on "The Strip." Brown's final act in the Contest involved perhaps the most flamboyant on-court shoe marketing campaign, ever. The Celtic wore a pair of predominantly black/orange/white Reebok Omni Lite Pump Mids that offered an inflatable bladder in the tongue. Before liftoff, DB pumped his joints up, (his shoes were conveniently laced below the ankles) igniting PUMP-mania around the world. His dunk wasn't bad, either. Dee-Dee took off past half court (post-PUMPing up), skyrocketed into mid-air, tucked his head behind his outstretched arm and bonged it no-look style. He reminisces, "That was the first time I'd tried that dunk, during the contest. It just came to me right before that dunk. It just popped in my head that I needed to do something special, a signature dunk that people would remember me by," Brown said. "Everybody remembers Dominique's windmill, Jordan taking off from the foul line, and Spud Webb since he's so small. So I needed something that people were going to talk about." Please check out our past Slam Dunk Contest Trendsetters Posts (presented by Sprite). Quotes via NBA.