Popular Pony Sneakers
Pony City Wings
Pony Linebacker
Pony Uptown – Midtown
Pony Top Star
Pony Tracy Austin
Pony History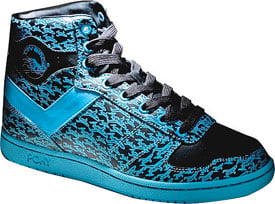 Pony was founded by Roberto Mueller in the year 1972. Since then, it has gone on to become a well-known and respected brand in the athletic world, as well as the fashion world. Many athletes as well as celebrities have endorsed Pony. The company is not new to the world of sneakers, and Pony shows now signs of slowing up.
Many NBA top professionals during the 1970's wore sneakers from the Pony line, but it doesn't stop there. Many other sports have found use for Ponys, including boxing. Famous boxer Muhammad Ali has at one time been affiliated with Pony. The Pony line was very small and unheard of at first, but the release of their Linebacker model changed everything.
Today, Pony is known more for is casual fashion products than its athletic counterparts, but is making a strong comeback. In 2004, Pony collaborated with rap superstar Snoop Dogg to produce the One and Only collection. In 2008, Pony also acquired Randy Moss to wear Pony on the field.