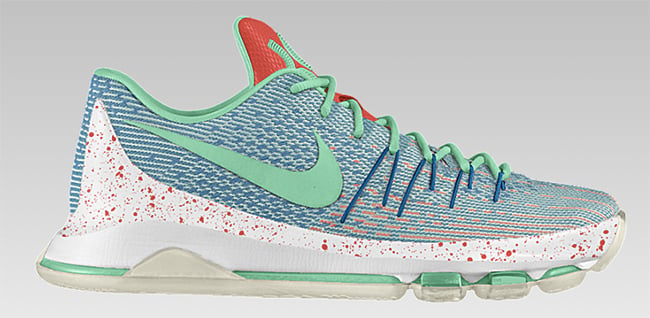 For fans of the Nike KD 8 and to take the custom route, NikeID just launched a new two tone option. Now available, you can choose three different two tone options which are a Multicolor, Black/Heather and Black/White.
The KD 8 as a whole hasn't received much love, however there are some loyal fans of Durant and some that like how this pair is constructed, so for those individuals, we are sure this heads-up is appreciated.
The NikeID KD 8 'Two Tone' can be built upon using the regular features NikeID has to offer. For example, multiple options can be added to the outsole like glow in the dark or translucent while you can add a speckled pattern to the midsole.
Below you can see some examples of the KD 8 'Two Tone' and you can head over to NikeID now to customize your own. Retail price is $225.