Nike SB Dunk High 'Cheech & Chong' – New Images
With 4/20 just seven days away new pictures of the Nike SB Dunk high 'Cheech & Chong' has surfaced once again, giving us a better look at the shoe. Featuring a mainly white canvas upper, with a blue canvas tongue and blue inner linning. A red suede is used on the swoosh, while a red bandana print is used on the right shoe and part of a red skull cap is used on the left shoe both use to represent Cheech and Chongs headgear. A white translucent sole is used, giving this shoe a nice touch. These will be available at select Nike SB retailers this 4/20. Check out the new images and let us know what you guys think, can these campare to last year's 4/20 Dunk high?
~ Soleless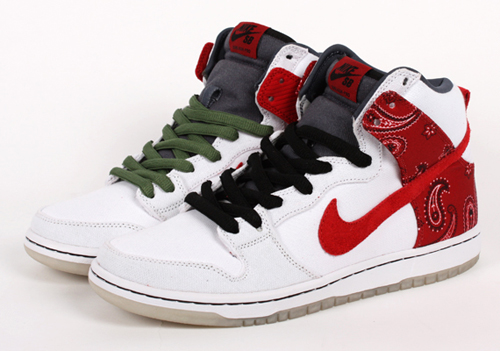 Brian Betschart
Founder and Editor of SF, Brian is considered an expert when it comes to sneakers. Collecting since he was in elementary school, his collection has grown to over 500 pairs and counting. Brian has published articles since 2004, and in 2006, he decided to create Sneaker Files.