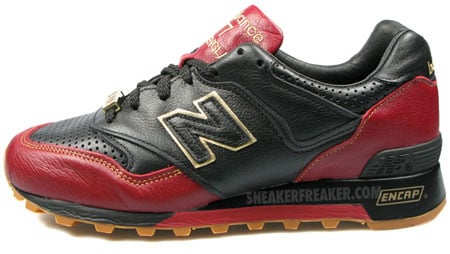 Limited Edt has teamed up with New Balance to release a new 577 BL. The collaboration marks the first time ever a Singapore sneaker boutique has ever collaborated with a a major sporting goods company.
Inspiration for the shoe derives from the Limited Edt store in the Heeren called the Valut. Burgundy and Black is chosen which are the colors of the interior of the store. Each shoe will come with 2 sets of laces and 2 sets of lace lock to represent the décor of the store and 'Bank Vault' door.
A rather unique idea has been implemented for the packaging, each shoe will be numbered and come in a special box with a combination lock that will open by using the serial number on the shoe. Available on March 1st, 2008 and will be limited to 140 pairs worldwide. Via Sneaker Freaker.