Popular Fila Sneakers
Fila Bubbles Mid
Fila Fitness – F13
Fila Hiker
Fila The Hill – Grant Hill 1
Fila Grant Hill II (2)
Fila Grant Hill III (3)
Fila Grant Hill IV (4)
Fila Grant Hill V (5)
Fila M-Squad
Fila Mashburn 2A
Fila Stackhouse I (1)
Fila Stack Mid
Fila Webber
Fila Flying Fortress
Fila The Cage
Fila History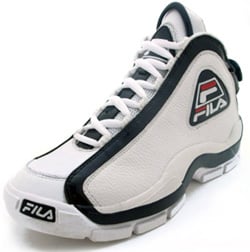 Fila was originally founded in 1911 in Biella, Italy. Today, however, Fila is part of U.S. based sports brand SBI (Sport Brands International). Originally, Fila's target market was the textile industry. However, in 1973, Fila came into the world of sports and made its mark.
Fila really made a name for itself in the tennis market, where a number of tennis professionals have endorsed and carried the brand. Players such as Bjorn Borg, Boris Becker, Jennifer Capriati, and Monica Seles. During the 80's and 90's, Fila continued to be a tennis powerhouse. Fila made sure to leave no stones unturned, as the brand has also made noise in basketball, baseball, soccer, and motorsports.
In 2001, Fila opended the first "Fila Sport.Life Store" in Milan. Since then, stores in Paris and Tokyo have opened. The Fila brand has definitely left its stamp in history, and will continue to do so. Fila is also the first company to have produced colored clothing lines, as opposed to the all-white lines of the time. Recently, Fila has endorsed New York rapper Nas, and has launched a series of High Top Fila shoes.