Air Jordan XIII – Air Jordan 13
Original Air Jordan 13 (XIII) Release Colorways
Air Jordan Original 13 (XIII) White / True Red – Black
Air Jordan Original 13 (XIII) Playoff Black / True Red – White
Air Jordan Original 13 (XIII) Flints Navy / Carolina Blue – Flint Grey – White
Air Jordan Original 13 (XIII) White / Black – True Red – Pearl Grey
Air Jordan Original 13 (XIII) Black / Varsity Red
Air Jordan Original 13 (XIII) Low Navy / Metallic Silver – Black – Carolina Blue
Air Jordan Original 13 (XIII) Low Black / Chutney
Retro Air Jordan 13 (XIII) Release Colorways
Air Jordan 13 (XIII) Retro White / Wheat
Air Jordan 13 (XIII) Retro Black / Varsity Red – White
Air Jordan 13 (XIII) Retro White / Team Red – Flint Grey
Air Jordan 13 (XIII) Retro White / Neutral Grey – University Blue
Air Jordan 13 (XIII) Retro Altitudes Black / Altitude Green
Air Jordan 13 (XIII) Retro French Blue – University Blue – Flint Grey
Air Jordan 13 (XIII) Retro Low White/Metallic Silver-Midnight Navy-Ice Blue
Air Jordan 13 (XIII) Retro Low White/Metallic Silver-Varsity Red-Black
Air Jordan 13 (XIII) Retro Womens Low White/Metallic Silver-Uni Blue-Pink
Air Jordan 13 (XIII) Retro Low White/Metallic Silver-Black-Varsity Maize
Air Jordan 13 (XIII) Retro Low Black/Metallic Silver-White-Varsity Maize
Air Jordan 13 (XIII) Retro Low White/Metallic Silver-Obsidian-Orange Flash
Air Jordan 13 (XIII) Retro White / Black – True Red Countdown Pack
Air Jordan 13 (XIII) History
When the Air Jordan 13 was being thought up, Michael and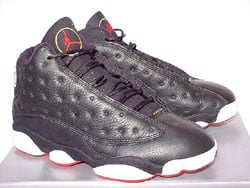 Tinker Hatfield did not have a meeting before they drew up designs. Tinker had an idea. If you've ever watched Michael play then you would see the resemblance between him and a panther. Michael Jordan would watch his players, and all of a sudden he would make the move, and before you knew what happened Michael had the ball.
Tinker later met with Michael and told him that he looked like a black cat, or panther. Funny thing was, between Michael and his friends, his nickname is "black cat", for all the reasons Tinker said: he would read his player, and strike like a panther.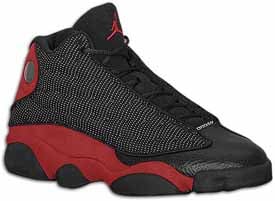 The sole of the Air Jordan 13 is one of the most unique soles ever released in the Jordan line. If you get a chance to look at the sole of them you will see a huge resemblance with a panthers paw.
By the heel of the Air Jordan 13 was a circle hologram. If you look close you will see the number 23, a basketball, and the Jumpman logo. A downfall of the hologram is they can get fogged up over time. Also over time the soles that are white will bleed (happens just about every time on the Original Air Jordan XIII).
In 1997-1998 five models of the Air Jordan XIII was released (retail for $150.00), and two low models (retail for $130.00). Jordan Brand re-released the Air Jordan XIII in 2004-2005. Six color ways were released and were going for $150.00. Also six color ways of the Air Jordan 13 lows were re-released in 2005 which went for $130.00. Two different color ways of cleats also released ($99.99).