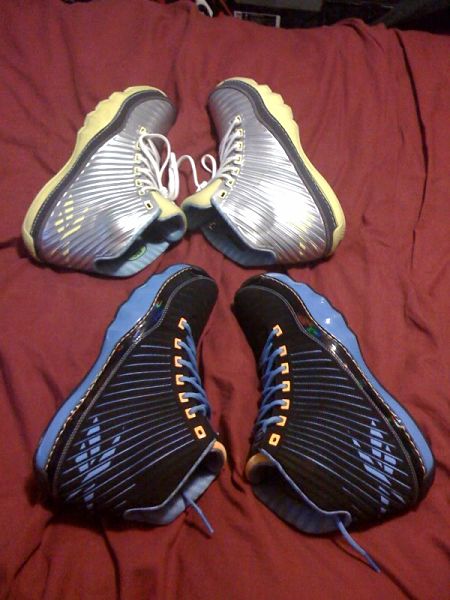 It's hard to believe that Allen Iverson has come out with 13 different Answer models, but here we are. Since that time Iverson has grown from a rebel, flashy young shooting guard with the Philadelphia 76ers to a passionate point guard/team leader on the Detroit Pistons. Here we have the 13th iteration of the Reebok Answer in two different styles & colorways.

First up is black / blue / orange colorway. These all black shoes have blue diagonals running along both sides of the shoe and a large blue Reebok logo. The laces are blue on the shoes and the whole shoe is accented with orange lace holes as well as an orange outline framing the tongue. These orange accents give some pop to the shoes and makes it less conservative than it would be if it was all black.

Next up is the silver / neon yellow colorway. These predominately silver shoes are accented with neon yellow lace holes, tongue border, and sole. This style gives the shoe a more futuristic look. There is also a difference in tongue logo between both colorways. On this shoe the tongue logo is the "I3" sign, while on the black colorway the logo simply says "ai" in a stylized format in lower case letter. More pics after the jump.
Via SC.