Scheduled to release during the NBA All-Star Weekend extravaganza in February, the Reebok Answer XII is the latest installment in Allen Iverson's signature series. The Philadelphia 76ers and Detroit Pistons inspired color schemes are complimented by an elegant TPU heel graphic plate that features British poet William Ernest Henley's poem Invictus. The prose describes A.I's unfettered on-court attitude and potent will to win. (To read Invictus, please hit the jump!) Expect to see the Reebok Answer XII on shelves during NBA All-Star Weekend for $100. To learn more about the signature, please check back today. Images via K3Q of Kenlu.net.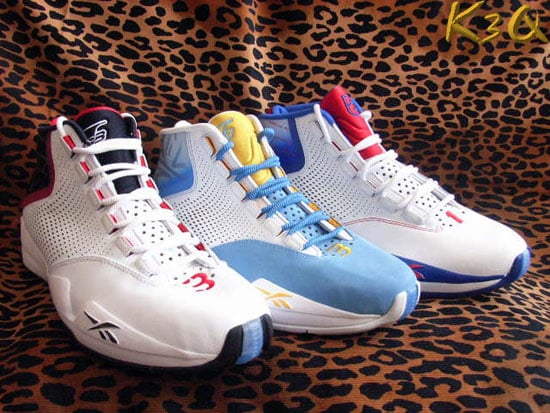 Out of the night that covers me,
Black as the Pit from pole to pole,
I thank whatever gods may be
For my unconquerable soul.
In the fell clutch of circumstance
I have not winced nor cried aloud.
Under the bludgeonings of chance
My head is bloody, but unbowed.
Beyond this place of wrath and tears
Looms but the horror of the shade,
And yet the menace of the years
Finds, and shall find me, unafraid.
It matters not how strait the gate,
How charged with punishments the scroll,
I am the master of my fate;
I am the captain of my soul.