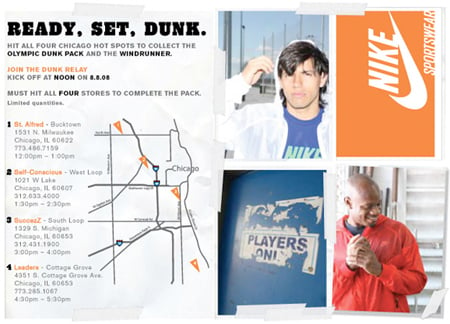 On August 8th, Nike will team up with 4 of the top leading sneaker boutiques in Chicago to release a Tier-0 Olympic dunk pack commemorating the Olympic games.
Each store will have 1 of the limited color ways and will also have the "wind runner" jacket available.
You must go to all the stores to complete the pack.
There are 2 Invites for the Olympic Dunk party for first person to arrive at any of the 4 spots.
The Olympic Dunk party will be held at
Cro-Bar
8-10 pm
(312) 266-1900
1543 N Kingsbury St
Chicago, IL
The race will begin in order as the list below:
St. Alfred, 12pm-1pm
Self Conscious, 1:30pm-2:30pm
SuccezZ, 3pm-4pm
Leaders 1354, 4:30pm-5:30pm