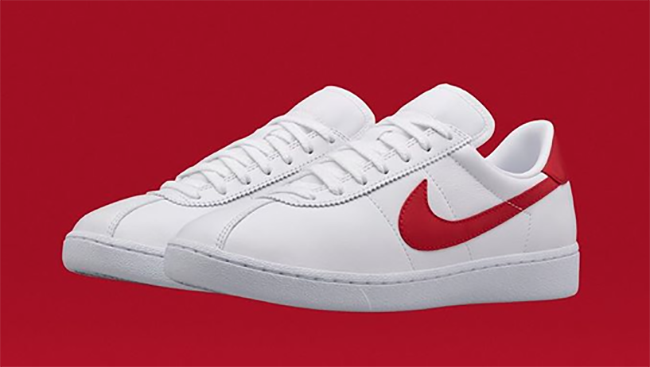 NikeLab is brining back yet another classic from the grave, the Nike Bruin which will release at NikeLab locations.
March 18, 1972, the Nike Bruin — complete with autoclave outsoles and suede uppers — made its hardwood debut in Portland's Veterans Memorial Coliseum. The moment marked the birth of Nike Basketball.
43 years later, NikeLab honors the occasion by releasing the NikeLab Bruin Leather. The new sneaker mimics an iteration of the original Bruin, with full-grain leather upper and cupsoles instead of the archetype suede upper and autoclave outsole. Today, the exclusive silhouette provided by these updates is accented by a bold red swoosh, which is particularly prominent due to the absence of heel tab and tongue markings.
The white and red edition of the NikeLab Bruin will officially release on October 30th, 2015 at NikeLab locations and online. For those that need more images, see below as we have obtained official photos from Nike on the latest Bruin to launch.
NikeLab Bruin
Colorway: White/Red
Release Date: October 30, 2015
Retail: $110
Product Number: 826670-160
Update: The online raffle for the Nike Bruin worn by Marty McFly is now live. Click Here to enter and will officially release tomorrow, October 30th, at NikeStore.com/NikeLab.
Update: Nike has pushed back the release date for the Nike Bruin associated with Marty McFly. They will now release on October 30th, 2015 and will retail for $110.