Nike first introduced the Delta Force during 1986 and was marketed as a Basketball shoe. In that same year the Dunk and Terminators were introduced and were issued to Colleges like Syracuse, UNLV, Iowa, St.John's, Michigan and a few others. The design on the Dunk and Terminators are similar to the Delta Force. Each shoe features the Nike swoosh along the site with panels of some sort. The Delta Force was the model used for the Mita collaboration between Nike, which featured three different Delta Forces. Red, Purple and Brown.
Nike Air Delta Force History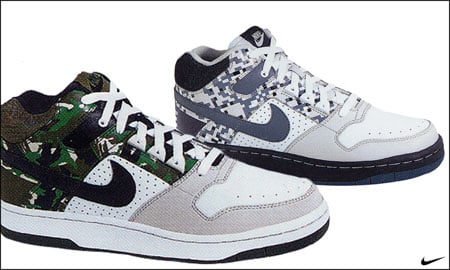 [ratings]
The Nike Air Delta Force Red/Gold pair featured a Cement Print design taken from the Air Jordan III, the Purple pair featured a Snake design, and the Brown pair featured Ostrich leather. Around 2004, the Delta Force transitioned into Nike's Skate boarding line. It's most famous release was the Supreme Delta Forces that were released in three different colors, Blue, Yellow and White. Other releases include the Thunderstorm and P-Rod color-ways.