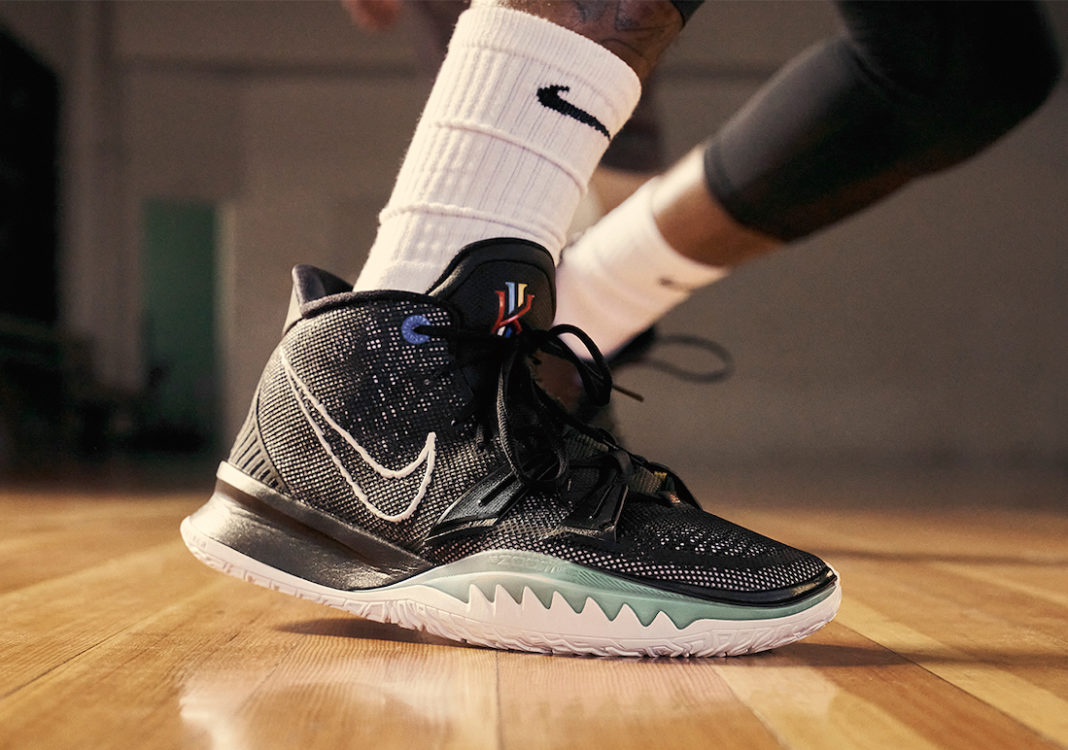 Nike Basketball has officially unveiled Kyrie Irving's seventh signature shoe, the Nike Kyrie 7, that will debut in November.
Recently leaked is a first look at the Nike Kyrie 7 in Black and Red, one of many upcoming colorways. As you can see, the model features a similar build compared to the previous pair while constructed with mesh infused uppers, teeth like pattern on the Phylon foam midsole along with Zoom Air. Following, we have Kyrie's branding on the tongue, heel, outsole, and insoles, while the phrase 'His Legacy Is Going To Live Forever' is seen onto the outsole, which is a tribute to Kobe Bryant.
Nike Kyrie 7 Release Details
First to release is the Nike Kyrie 7 in four 'Preheat' colorways inspired by sport, art, film, and music. The four will debut at select retailers on November 11th. Each will come in a 'mystery box style,' which the buyers won't know which pair they will get until they have secured and unboxed. The retail price is $140. Expect more colorways to release during 2020 and throughout 2021.
Part of the 'Preheat' collection includes the 'Special FX' that is inspired by Irving's love for filmmaking. The 'Expressions' pays tribute to his love of art and the freedom of artistic expression. Next, we have the 'Icon of Sport' that references Irving's 'hoop influencers.' Lastly, the 'Soundwave' pair is inspired by his love for music and how the vibrations influence his game.
Next up, is the Kyrie 7 'Sisterhood' that was designed to empower female athletes everywhere. A release will take place on November 14th for $130.
Last up for confirmed releases so far is the 'BK Black' iteration. This pair celebrates his Brooklyn home court that will release first to Nike Members on November 16th. Following a wider release will debut on November 23rd. The retail price is $130.
Nike Kyrie 7 Colorways
Nike Kyrie 7 'Mystery Box'
Release Date: November 11, 2020
Price: $140
Nike Kyrie 7 'Special FX'
Release Date: November 11, 2020
Style Code: DC0589-400
Price: $140
Nike Kyrie 7 'Icons of Sport'
Release Date: November 11, 2020
Style Code: DC0589-600
Price: $140
Nike Kyrie 7 'Soundwave'
Release Date: November 11, 2020
Style Code: DC0589-002
Price: $140
Nike Kyrie 7 'Expressions'
Release Date: November 11, 2020
Style Code: DC0589-003
Price: $140
Nike Kyrie 7 'Creator'
Color: Active Fuchsia/Black-Ghost-Multi-Color
Release Date: November 12, 2020
Style Code: DC0588-601
Price: $140
Nike Kyrie 7 'Sisterhood'
Color: Hyper Royal/Black-Melon Tint-White
Release Date: November 14, 2020
Style Code: CQ9327-400
Price: $130
Nike Kyrie 7 'Bred'
Color: Black/University Red-White
Release Date: December 15, 2020
Style Code: CQ9327-001
Price: $130
Nike Kyrie 7 'Raygun'
Color: Black/University Gold-Team Orange
Release Date: January 29, 2021
Style Code: CQ9326-003
Price: $130
Nike Kyrie 7 'Play for the Future' (All-Star)
Color: Atomic Orange/Tropical Twist-Black
Release Date: March 7, 2021
Style Code: DD1447-800
Price: $140
Nike Kyrie 7 'Chinese New Year'
Release Date: March 16, 2021
Style Code: CQ9326-006
Price: $140
Nike Kyrie 7 'Hip-Hop'
Color: White/Black-Glow-Hyper Royal
Release Date: March 18, 2021
Style Code: CQ9327-100
Price: $130
Nike Kyrie 7 'Pale Ivory'
Color: Pale Ivory/Chlorine Blue-Black
Release Date: May 1, 2021
Style Code: CZ0141-100
Price: $130
Nike Kyrie 7 GS 'Daybreak'
Color: Daybreak/Citron Pulse-Siren Red-Ghost
Release Date: May 8, 2021
Style Code: CT4080-500
Price: $110
Nike Kyrie 7 'Pink Yellow'
Color: Black/Black-Arctic Punch-Opti Yellow
Release Date: May 15, 2021
Style Code: CQ9326-005
Price: $130
Concepts x Nike Kyrie 7 'Horus'
Release Date: May 19, 2021
Style Code: CT1137-900
Price: $150
Nike Kyrie 7 'Ky-D' (Weatherman)
Release Date: June 5, 2021
Style Code: CQ9326-300
Price: $130
Nike Kyrie 7 GS 'Chip'
Color: Light Smoke Grey/Smoke Grey-Summit White-White
Release Date: August 5, 2021
Style Code: DB5624-011
Price: $110
Nike Kyrie 7 'Daughters'
Release Date: September 17, 2021
Style Code: CQ9326-501
Price: $130
Sneaker Room x Nike Kyrie 7 'Mother Nature'
Release Date: January 20, 2022
Price: Green and Yellow $175 – Limited to 1996 Pairs
Price: Blue and Orange $250 – Limited to 525 Pairs
Nike Kyrie 7 GS 'Beach Camo'
Color: Grain/Aquamarine
Release Date: Spring 2021
Style Code: CT4080-207
Price: $110
Nike Kyrie 7 'White Black Gold'
Color: White/Black/Metallic Gold
Release Date: Spring/Summer 2021
Style Code: CQ9326-101
Price: $130
Nike Kyrie 7 'Grind'
Release Date: Summer 2021
Style Code: CQ9326-007
Price: $130
Nike Kyrie 7 'Visions'
Release Date: 2021
Price: $130
Nike Kyrie 7 GS 'Pixel Camo'
Color: Black/Metallic Silver
Release Date: 2021
Style Code: CT4080-008
Price: $110
Nike Kyrie 7 'Navy Green'
Release Date: 2021
Style Code: CQ9327-401
Price: $130
Nike Kyrie 7
Color: Active Fuchsia/Black-Ghost-Multi-Color
Release Date: Fall 2020
Style Code: DC0589-601
Nike Kyrie 7
Color: Active Fuchsia/Black-Ghost
Release Date: November – December 2020
Style Code: DC0588-601
Price: $140
Nike Kyrie 7
Color: Ghost/Laser Orange-Blue Beyond
Release Date: November – December 2020
Style Code: DC0588-003
Price: $140
Nike Kyrie 7
Color: Black/Glacier Ice-Melon Tint
Release Date: November – December 2020
Style Code: DC0588-022
Price: $140
Nike Kyrie 7
Color: University Red/Black-Fierce Purple
Release Date: November – December 2020
Style Code: DC0588-600
Price: $140
Nike Kyrie 7
Color: Bleached Aqua/Metallic Gold-Green Abyss
Release Date: November – December 2020
Style Code: DC0588-400
Price: $140
Nike Kyrie 7
Color: Iron Grey/Iron Grey-Fossil Stone
Release Date: November – December 2020
Style Code: DC0588-001
Price: $140
Images: sneakerhighway23