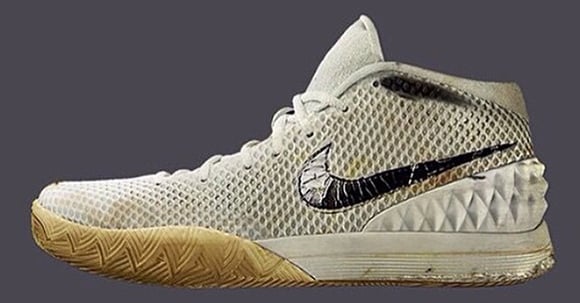 I get buckets was Uncle Drew's trademark in the commercials for Pepsi Max starring Kyrie Irving. For those that have not seen one of the commercials, Irving would dress up as an elderly man and go to playground courts and school the younger generation. An image has surfaced today of the Nike Kyrie 1 that will pay tribute to Uncle Drew.
At first, we thought that the picture could have been from NikeiD, but as we went to replicate the Uncle Drew Nike Kyrie 1, the gold options wasn't available. We thought also it could be a photoshop, but we doubt it.
The Kyrie 1 Uncle Drew uses various shades of gold, with what looks to be black metallic crinkled foliage on the swoosh. We are still wondering why the black smudge is by the collar, so if anyone with knowledge of this drop a comment below.
We expect the Uncle Drew Kyrie 1 to be a limited release to some degree if they do release, as the title 'premium' is attached to them. What are your thoughts of them?
Edit: Sadly this is an illustration done by @deaddilly, but Nike should take notes from him and launch them!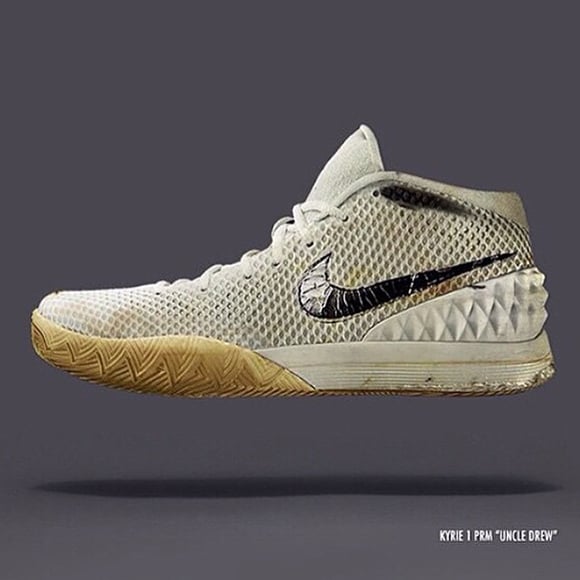 Source: @abt_lrj23