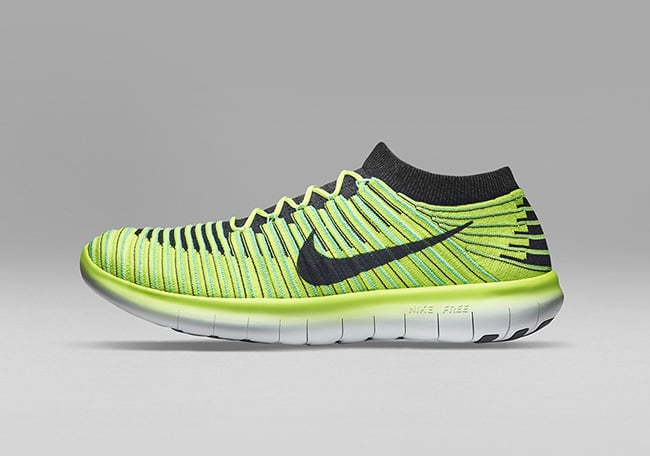 The Nike Free RN Motion Flyknit extends upon the Nike Free legacy and extends this new model with new technology and design.
The concept of Nike Free was born in 2001, when insights from a legendary coach inspired designers to create footwear that mimicked the feel of barefoot training but incorporated important protection and support. The first expression of this study released in 2004 via a shoe with a siped outsole, comprised of deeply cut grooves that allowed the sole to flex freely and translate a barefoot-like feel to all surfaces.
To form the new tooling, the designers employed a new dual-injection technology. Using heat, instead of glue, they fused two foams into one piece that still features an IU foam carrier and soft IP core but introduces more cushioning than past Nike Free models.
As a result of the increased mobility, designers were forced to rethink the shoe's stroble, the midsole-upper connector, which in its traditional form would impede the sole's dynamism. So they took advantage of the pliable Flyknit upper, stretching it underfoot to create a holistic unit that works in harmony with the dynamic tooling and allows the Nike Free RN Motion Flyknit to deliver our most natural ride yet.
As of now, a release date has yet to be set for the Nike Free RN Motion Flyknit, but Nike has promised those that are signed up as Nike+ Members will receive updates. As always, you can check back with us for the latest news and information.