The Air Jordan 6 Maroon with Nike Air has been confirmed to return during the Holiday 2015 season, a first time we will see this model retro.
Each year a rumor spread that the Air Jordan 6 'Maroon' will finally return to retailers. This has been ongoing for 3 years now, each time we seem to be let down. Things are looking towards the bright side on an official release now, which is slated to drop Holiday 2015 season and is now confirmed to return.
Nike Air Jordan 6 Maroon 2015 Details
Going by the handle on Instagram, princess_of_dopeness dropped the news that the Maroon Air Jordan 6 would release. We would typically hold off on this since we have got our hopes up in the past. Plus we don't want to stir up to much commotion and it not be true. Not long after, zSneakerheadz almost confirmed the release along with BaltSneakerShow, two Nike and Jordan Brand informants who always gets it right. So could the rumor actually be fact?
The Maroon Jordan 6 will feature a white upper with hits of perforation on the paneling. Maroon accents line up on the midsole, tongue and heel tab and Jumpman logo feature on the tongue, sole and insole. Other details include a translucent outsole while the biggest news here is Nike Air branding will return on the heel and insole.
We can't verify if this image used is the actual release of the 2015 Air Jordan 6 Maroons or a Photoshop. We can say it's not the original release which took place in 1991. The midsole and sole on the OG's would be yellowed from over the years. It's worth noting that the supposed 2015 release color of 'Maroon' is off from the original which was a bit more bright.
We will continue to update you on details of the 2015 re-release of the Maroon Jordan 6. Do you want Jordan Brand to finally retro the shoe?
Nike Air Jordan 6 Maroon 2015 Release Date
After confirmation, we have learned the release date for the 2015 Maroon Nike Air Jordan 6. Sources are saying we could see them hit retailers once again on December 5th, 2015. Let us remind you that this release date is not concrete info, and things could change. Retail price has been set at $220, a bit higher than most of us expected.
Air Jordan 6 Maroon
Colorway: Off White/New Maroon
Release Date: December 5, 2015
Retail: $220
Product Number: 384664-116
See Also: Air Jordan Release Dates
Update: 24 years after the Nike Air Jordan 6 'Maroon' originally released, tomorrow is the big day Jordan Brand will bring back this pair in retro form. They won't be a limited release, stores like Kicks USA will have them, however the hype is insane, thus resulting in the possibility of missing out at retail. If that does happen, you can always try your luck on eBay. Good luck to all.
Air Jordan 6 Maroon 2015 Video Review
Update: Prior to the release, Nike has just shared official images of the 'Maroon' Air Jordan 6 which you can see below.
Update: We have given you plenty of looks at the Air Jordan 6 'Maroon' that will release this weekend, but today we give a you closer look at the adult, gradeschool, toddlers and preschool releases. Let us know if you plan on picking up pairs for the family.
Air Jordan 6 Maroon Adult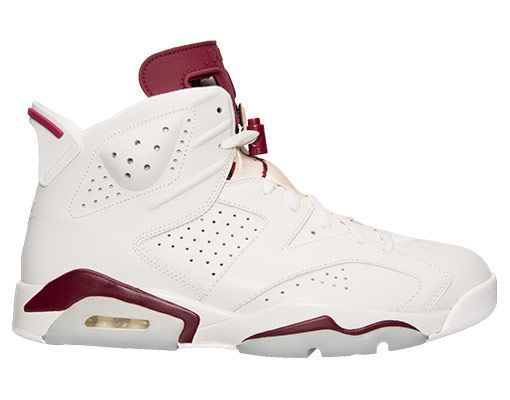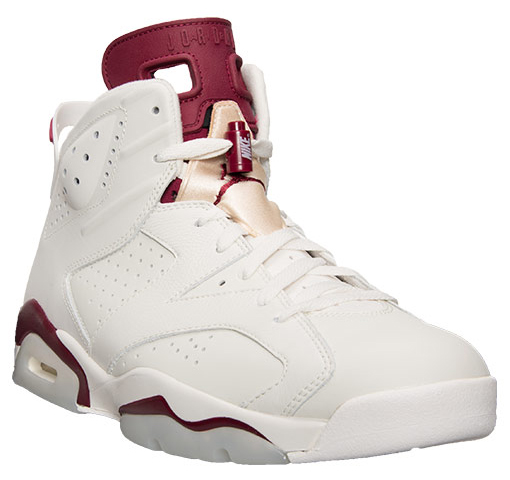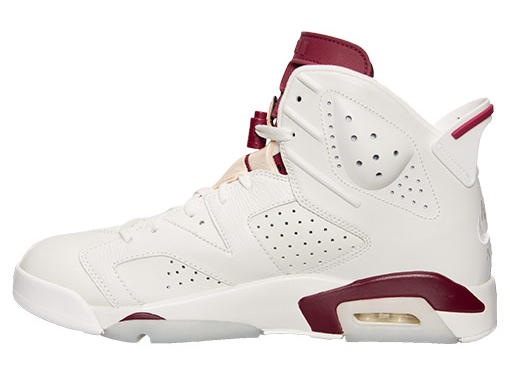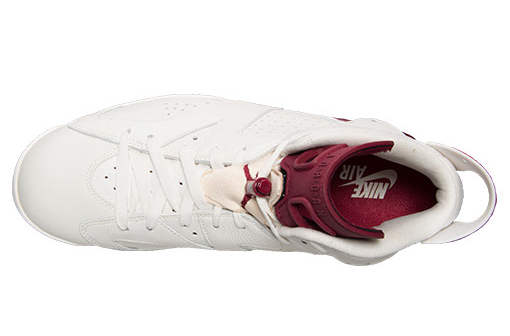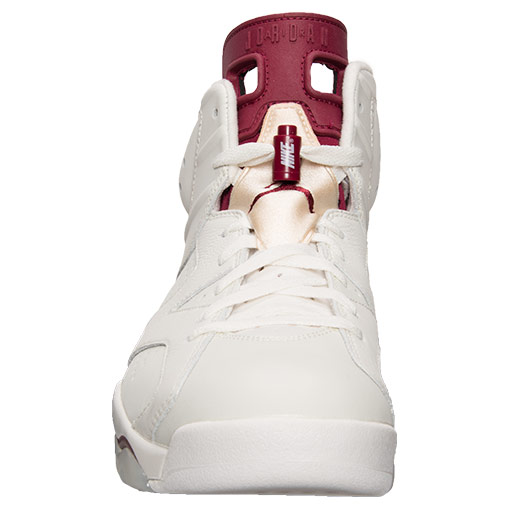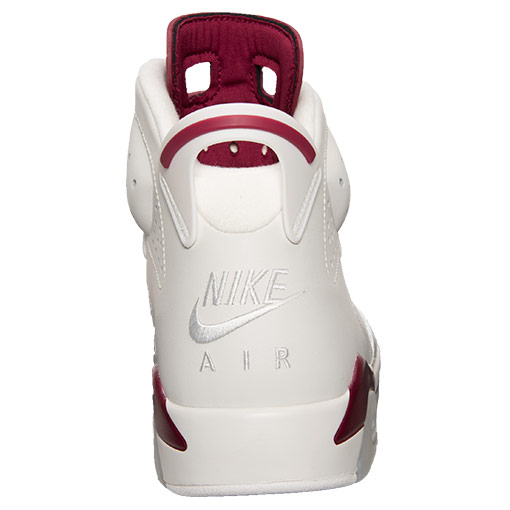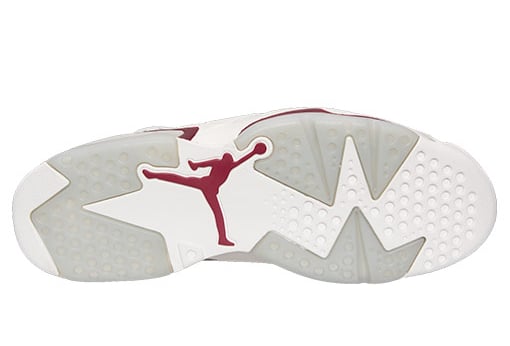 Air Jordan 6 Maroon Gradeschool
Air Jordan 6 Maroon Preschool
Air Jordan 6 Maroon Toddlers
Update: Next weekend, one of two of Jordan Brand's biggest releases for the month of December will take place, the 'Maroon' Nike Air Jordan 6. We have another look from Rock City Kicks which you can pick them up from this Saturday.
Update: We are approaching the Nike Air Jordan 6 'Maroon' Retro release and some retailers are already receiving their pairs giving us more photos.
Update: One of a few highlight anticipated releases during December, the Nike Air Jordan 6 'Maroon' is available early on eBay. You will have to pay a little over retail for this pair, but at least you don't have to wait in lines.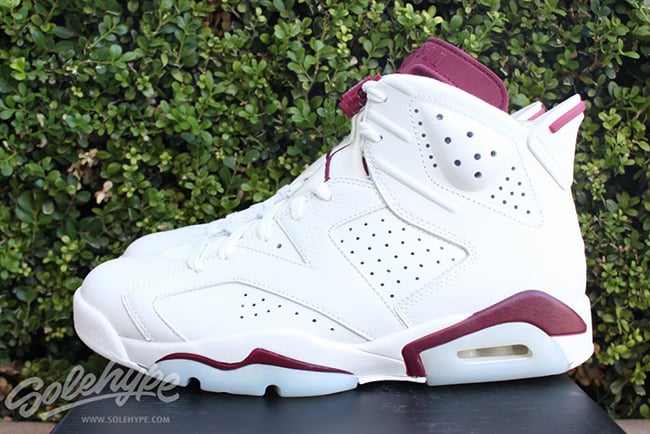 Update: For the last several years, rumors circulated that the 'Maroon' Air Jordan 6 would return. We already knew they were coming, but a few different release dates were stated with the most recent being December 5th. You can now lock that date in as confirmed as both FinishLine.com and FootLocker.com are showing the date on their release calendars.
Update: Thanks to My Sole, we have another look at the Nike Air Jordan 6 Maroon on feet. How many of you are planning on buying them in December?
Air Jordan 6 Retro Maroon On Feet
Update: The 'Maroon' Air Jordan 6 won't just release for adults, but kids can pick them up as well. See another shot below from officialkevythakid.
Update: The official release date for the Maroon Nike Air Jordan 6 is December 5th, 2015 which has been confirmed by J23App.
Update 08/10: We bring another set of high quality photos of the Air Jordan 6 Maroon 2015. Will you be buying a pair?
Update: An image of the box tag shows that the retail price is $220. A bit higher due to the Nike Air being placed on the heel. Does this change your mind about buying?
We now have on foot images of the Jordan 6 'Maroon'. See below to get your detailed look.
Source: wattsgoodie, MS
Source: mysole
Source: baltsneakershow, koalahsh, soleudecide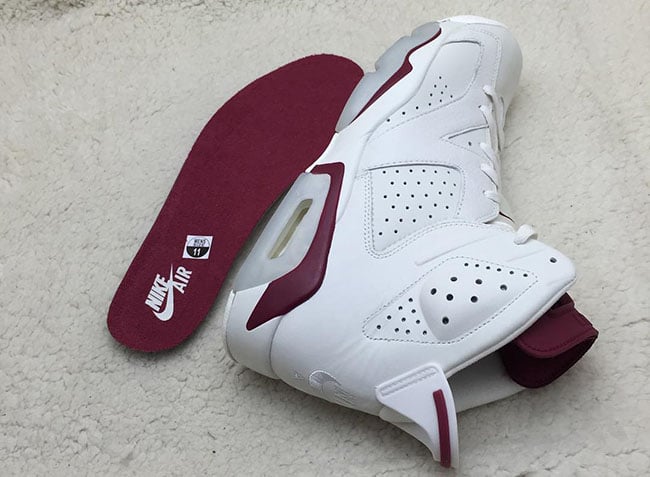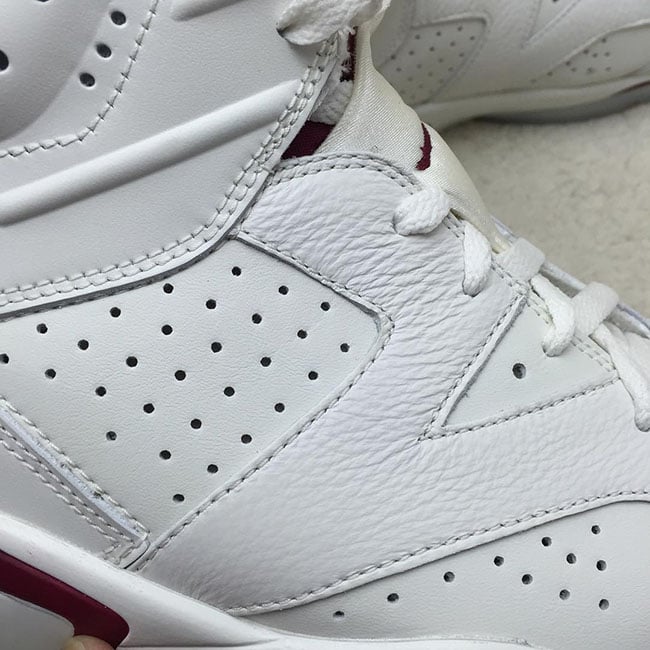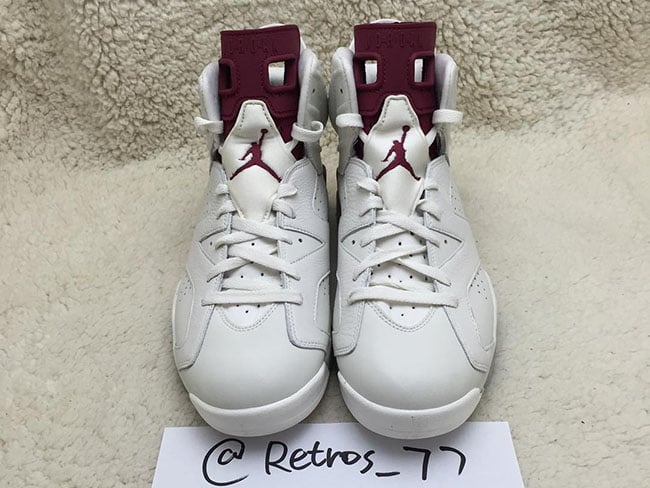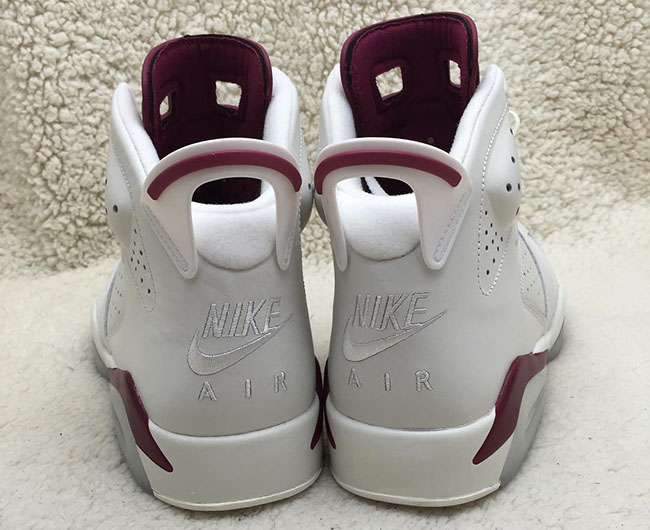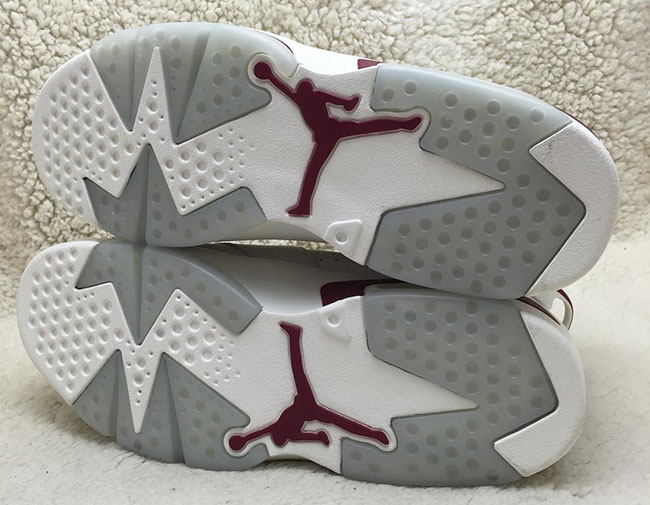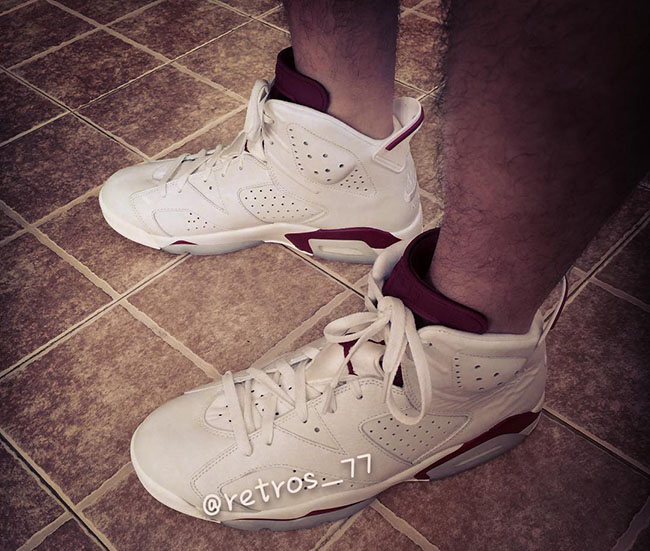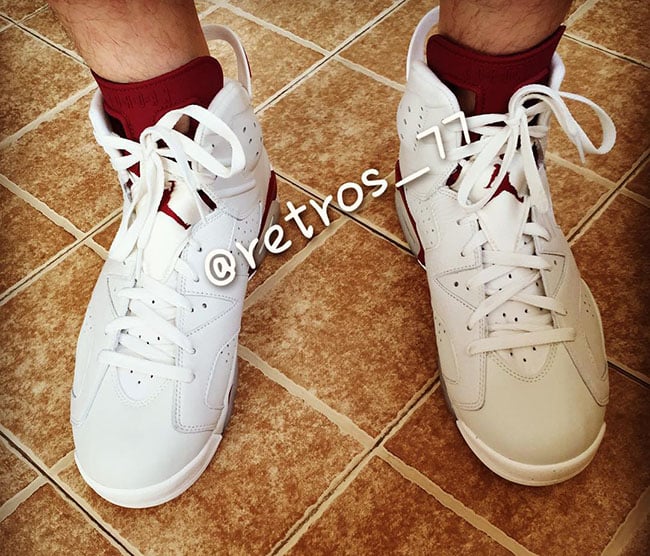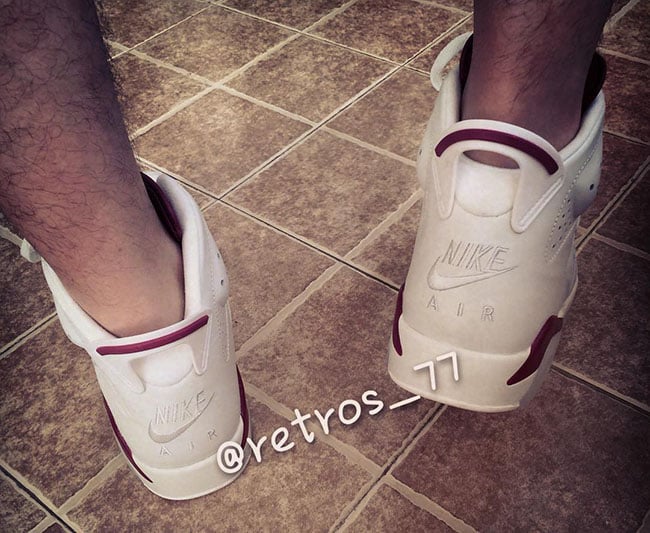 Source: retros_77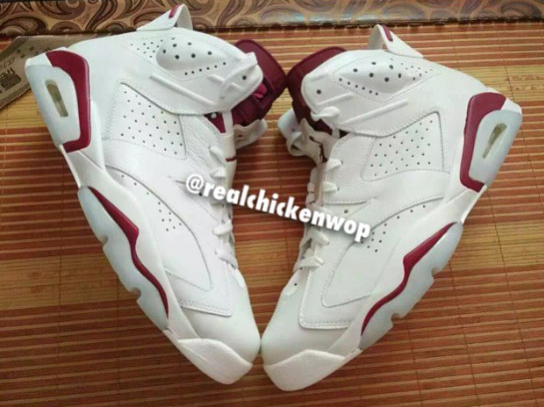 Note: This set of images are the 1991 Air Jordan 6 Maroon release.
Source: sneaker.whorez, us11hustla
Source: @princess_of_dopeness, soleseller, realchickenwop