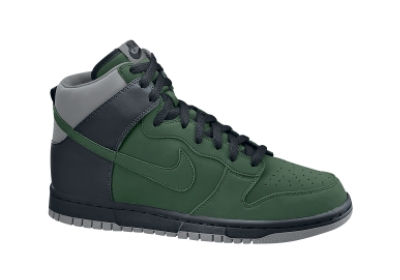 Sneakers and T's have always come hand in hand and for every independent clothing line there was always inspiration from the culture that we all share as sneaker heads. But what happens when You get a independent clothing line with its own identity but still has the taste of the urban culture? Royal Mindset. A Line influenced by life as well as what we all go through.
Nate Hoops, Creative Director of Royal Mindset, describes the message of the clothing as  "An Idea that if you can get your mindset to do something, you can do it. If you have the mindset of royalty, you can become that. All the guys I work with come from humble back grounds and so we kind of want to make it if you have the mentality, You can than you can. It's all about having your mind right"
More after the Jump!!!!
By.Oscar Castillo and Chris Cason
www.myspace.com/wreckinkickz
Enjoy Mr.Nate!
Has the Line come up since its launch?
Answer: Yeah, it's definitely coming up. We only been out for over a year, but even in that year, we've just been busting our ass. Just trying to push the brand and push the idea of the message behind it. I think we have come up a long way by a pretty good reputation with a lot of good relationships that we've had in a year and a half.
Whats the Influence of the Line and the message?
Answer: A lot of it is just the hometown feel. I'm just trying to rep Chicago. This whole next line is a lot of Chicago based ideas, designs and a higher level of thinking. One shirt we have called the "Jack of all Trades." The Jack part comes from the Jack of Hearts, and he's holding a bunch of different tools that represent Chicago but They all have a number of different facets, rather than just being on one specific idea. The message is not just art work. It's always a message behind every design. Rather than popping off with a colorful gun, or some kind of pattern. I think every design we pop off has some kind of message behind it, some kind of inspiration.
What do You feel about the explosion of other independent brands?
Answer: I'm sure a lot of these other brands, when they first started, said they would like to stay independent too. I would like to stay independent because I'd rather do something I have a passion for, rather than something I'm just doing for a job. I think that's the mentality with our generation. You're successful if you're doing what you like and enjoy, rather than doing it to make the money. So as long as I'm really enjoying what I'm doing still and I'm very passionate about it, and not losing that edge, that drive to do it, than I think we'll follow our goals
What made you choose "Royal Mindset?"

Answer: I still tend to focus a lot of the ideas on the actual name of the brand. Because we come from that humble background, a lot of it is that hustler's mentality, as trying to use what you can as a hustler to make that money. Hustle to be successful to move yourself from where you're at to someplace better, whether that be financially, mentally or whatever. I think a lot of my designs convey that kind of mentality, or idea to keep your mind right. Henry Ford said something along the lines of 'whether you think you can or you can't, you're right.' That's the whole mentality that we base it on. A lot of designs are focused on repping Chicago, just pushing Chicago out there and doing whatever to put it on the map.
Other than the Dope T's, What other ideas do you have for the brand?

Answer: well, the extensions of the brand is to diversify ourselves from just making the t-shirts. We live in a city where we see four seasons. We just can't wear t-shirts all year round. We have the bandana's out there because they were hot for a little bit. We had a whole Samurai thing behind that. We're trying to do a scarf for the winter line.
http://www.royalmindset.com