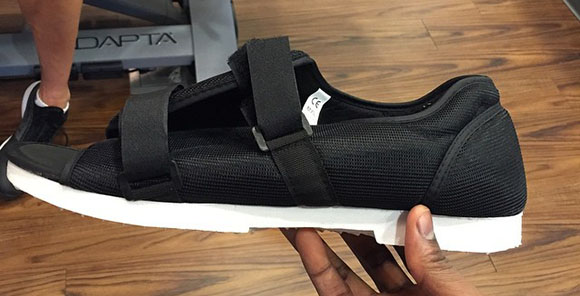 Kevin Durant has jokes! Earlier in the day he shared to his Instagram a first look at the Nike KD 8. Obviously this is a joke. But he will be wearing the shoes to help his foot since over the weekend he underwent a minor procedure to reduce pain in his surgically repaired foot.
With OKC in the 8th spot and the Phoenix Suns not far behind, the squad is going to need him in the lineup. But on a side-note it is nice to see Durant joking, especially since he hasn't been to happy in the media lately. It's worth mentioning when he has played, he barely wore the KD 7 and opted to the KD 6. We don't want to say the 7s caused the issue, but maybe with his on going injury the 6s just feel better?
The actual exposing of the Nike KD 8 should come in a couple months, give or take.
Can't wait for the 8s to drop!!