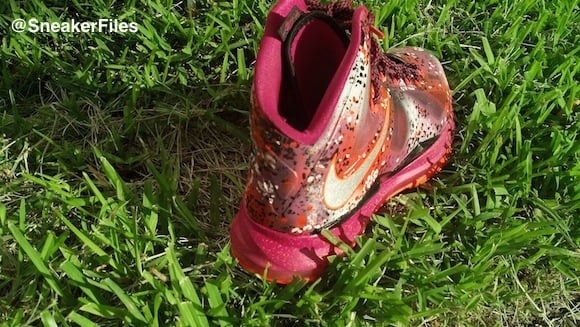 Many sneakerheads tend to overlook many customs that are done by the less popular. I'm here to tell you to stop overlooking the talented that will one day run the sneaker game with their designs. CodyMoore gives us the first look at his Lebron X "Floridian Night" customs. The popular "Miami Night" theme changes color to fit and style perfectly with the base used Lebron X Floridian. The Total Orange and Fireberry Pink, to match the base, flows smoothly and perfectly mimics the "Miami Night" theme in a more vibrant feel. These could be one of the sickest color-ways to be put on a sneaker this year (IMO).
I was able to connect with Cody to ask him a couple questions via e-mail regarding his well-done custom:
Russ: What made you design these customs?
Cody: The custom was based off of the miami night lebron 8's, the custom wanted to send the floridians and i thought it would be cool to use those colors for that pattern.
Russ: What base did you use?
Cody: I used the lebron x floridian base
Russ: What are you trying to accomplish in the custom game?
Cody: For a while I wanted to make customs for a living, after I thought about it I would rather be like el cappy and just make 1of1's and release less stuff and do something else for a living
Russ: Do you think customs are going to become bigger than actual sneakers?
Cody: Yeah I think customs have more potential to be bigger because less are made and the sky is the limit on a custom
Russ: What influences you to be a sneaker artist?
Cody: Mache has been the most influential on me for the crazy stuff he puts out, alos robee at airbrush expressions has always inspired me. And lastly i have a little of artistic background and i love sneakers so i put the two together.
Russ: Besides the customer, did anything else have an influence in customizing these sneakers?
Cody: Ehh not really anything else influenced these other then how much I loved my "miami night" custom foams I did a few months ago and its just a clean pattern to me.
Day by day customs are becoming more popular within the sneaker community. Most eyes are always leaning over towards Mache, Kickasso, and GourmetKickz but many miss out on the small names that will have a huge impact within the sneaker game. This Lebron X "Floridian Night" should make way in headlines and provide ideas to many artists. Check the photos below and tell us what you think about this custom. Should these X's release in retail?