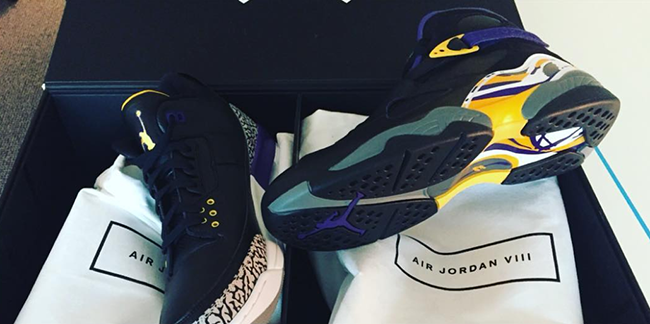 Not long ago, Jordan Brand released a special auction of the Air Jordan Kobe Pack which came in Black. Only Kobe's size was available, and proceeds went to charity. At the end of the one day auction, the collection went for $240,000. Many of us was left with many questions, one of the biggest being if the pack will actually release.
Now we can't say they will drop, but a release is looking more probable. Zach Myers who is a rocker out of Tennessee recently took a trip to the Nike Headquarters. He didn't leave empty handed as he showed off his latest pickups, the Air Jordan Kobe Bryant Pack (Black) and Macklemore Air Jordan 6s.
First, there wasn't any plans that we know of for the Air Jordan 6 to release and we thought the Black version of the Air Jordan 3 and Air Jordan 8 forming the Kobe Pack was an exclusive. As you can also see the pack comes in the special packaging.
The Kobe Air Jordan Pack is still rumored to release, but previously it was in White, but could the Black versions also be heading to retailers? Make sure to check back with us for details.