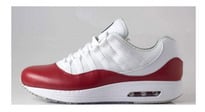 Some loved them, others hated them. Whatever your thoughts were on the Air Jordan 11 x Air Max 1 hybrid series, they are now available for pre order at Shoe Trends for $75. They are stated to ship out Sept. 30th… could we see these on shelves this fall?

The image shown is different than the pair we spotted Wale rocking as well.

As usual, let us know what you think.