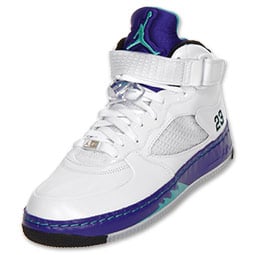 The Grape AJF 5 is now available at retailers.

If you want to grab your pair for $144.99 you can get them at Eastbay BUT if you would like to grab apair for a bit less they are at Finishline for $139.99 + free shipping.

A quick shout out to 'NiceKicks426' for catching a typo on our Release Reminder Post as well as to 'Jaydub' for info on 20% off on purchases over at Eastbay including the new AJF5s!

Stay tuned to Sneakerfiles for all your sneaker info needs!