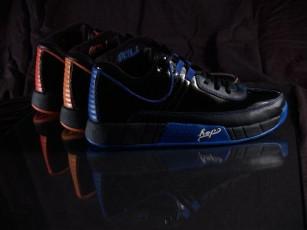 Sneakerfiles was one of the first to report on the Hops Sportswear movement. A movement in which we as players can find not only a comfortable and reliable sneaker to give us the performance needs we crave, but to also keep our wallets in mind as well.

Hops uses nothing but the best materials including real full-grain leather for better support and all over feel, a CMEVA midsole for optimal cushion and impact absorption and a brand new patented technology feature- the 'Medial Wing'- giving a player's lateral movements the crucial support that one needs while making hard cuts to the basket as well as keeping your defensive stance completely stable while making your lateral movements more balanced and explosive.

SLAM Magazine has just released an in depth performance review that should keep any of the naysayers at bay. Click HERE to read the full report; it's a very informative and pleasing read. We would also like to thank Hops Sportswear owner/ company director Matt Kaipuke for allowing us at Sneakerfiles to bring you this news first.

Via SLAM & Hops Sportswear