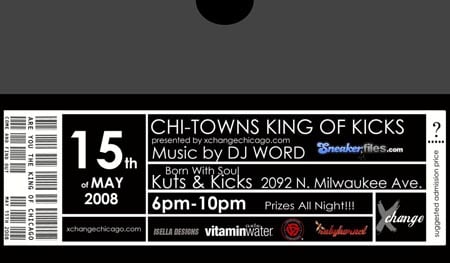 Born with Sole by Big Al and Kuts and Kicks By Melo Rosario
About 7 months ago, Sneakerfiles brought you a first ever insight article about The Hot Spot in Chicago Kutz and Kickz, A sneaker and barbershop collaboration where sneakerheads can come get a cut and cop the latest kicks You wont see in your average boutique. We interviewed the owner of the Hot Spot, Melo Rosario, an OG sneaker head that has enough heat to start a nuclear war at a Sole collector event.
The article has since then launched Melos career from being contacted by CNBC to be featured in the Swoosh! documentary to now collabing with a sneaker shop owned by his partner Big Al and opening his 2nd barbershop and naming it kuts and kicks/Born with Sole which will be a barbershop and sneaker boutique in the same place.
The sponsors of the Event include Xchangechicago and Sneakerfiles and more.
The Grand opening event will take place at 2092 N.Milwaukee Ave down the street from uprise on May 15th from 6-10
Oscar Castillo Aka Wreckinkickz
Click below for the First Hot Spot Barbershop Article!!!!
Click here for the first Hot Spot Barbershop Article
Click Below for a Clip of Melo Featured in SWOOSH!
http://www.cnbc.com/id/15840232?video=642649134
Address:
Kuts and Kicks
2092 N.Milwaukee Ave