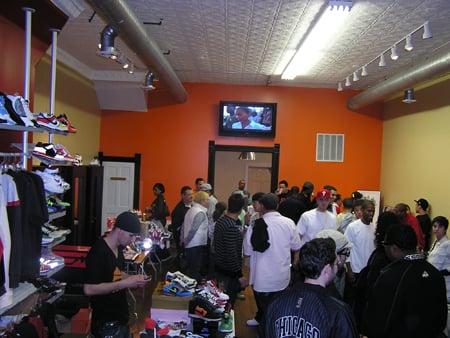 This article was accidentally deleted earlier Sorry guys.
About 7 months ago, Sneakerfiles brought you a first ever insight article about The Hot Spot in Chicago Kuts and Kicks, A sneaker and barbershop collaboration where sneakerheads can come get fresh a cut and cop the latest freshest kicks You wont see in your average boutique or barbershop. Now, Melo and his Partner Sam "The White Man" have taken the concept to a whole new level.
Many Ideas have been fused with sneaker spots that are found in other major cities like Los Angeles or New York. In Chicago, there is a rise of unique boutiques that have made a name for themselves and are even heard of in other major cites. But what happens when you mix a place where you get a fresh cut to go to the club and get some fresh kicks while your there at the same time?
Melo Rosario teamed up with his partner Sam "The White Man" on a goal to bring sneakers and a full fledged barbershop together as a concept that was heard by some of but never made into an actual spot.
More and Pictures after the Jump!!!!
Melo, The person behind the barbershop concept and also featured in the Nike Swoosh! documentary Says:
"Well, Thanks to My man Oscar from Sneakerfiles for giving us the title idea of kuts n kicks it actually motivated me to move to a bigger spot and provide more for the sneaker culture here in Chicago because I think that every Sneakerhead needs a fresh cut and with that they need a pair of fresh kicks and its all one. I also believe that this is a new element that has been added to Hip Hop as well because Sneakerheads and Barbershops have always been a part of Hip Hop but its never been given a chance to have an actual place where it comes together and that is what I did by moving to a bigger spot for both sneakers and apparel"
During the Grand Opening there was also a King of Kicks sneaker battle which titled the owner of the best sneakers as the King of Kicks in Chicago.
– Oscar Castillo AKA Wreckinkickz
Any independent clothing lines interested to be carried in the store contact the shop at:

Kuts and Kicks
2092 N.Milwaukee Ave
773 252-4743
Mention Sneakerfiles!
Big shout outs to the participants:
Rick aka Chitownair
P aka Windycity1982
Big brother Aaron aka Supadupakae
Twin
Kumax95
And those who attended.
Big Ups to
Xchangechicago.com
Rubyhornet.com